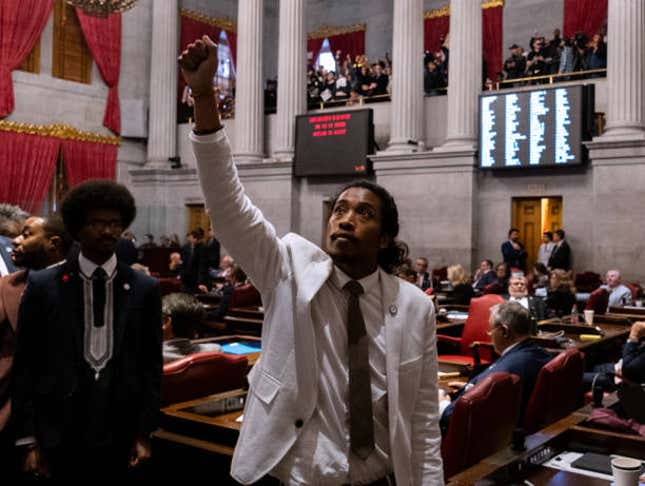 Members of the same political party that accuses a New York prosecutor of being politically-motivated for indicting ex-president Donald Trump on Tuesday expelled two duly-elected Black lawmakers from their posts for leading a legal, peaceful protest against gun violence.

Justin J. Pearson and Justin Jones are no longer members of the Tennessee House of Representatives after the Republican supermajority in the state legislature's lower chamber voted to oust both men–and tried to kick out a third–following a loud protest at the state's capitol in Nashville on Tuesday. Both men are Democrats and both had been elected by constituents in heavily Black districts.

Pearson had represented Tennessee's 52nd district, which stretches from Nashville's southeast corner and into its suburbs, and includes Nashville International Airport. Jones' 86th district stretches north-to-south on the west side of Shelby County, including parts of Memphis. The 86th district's residents are 61.1% Black.
Republican-Led Political Expulsions Like In Tennessee Will Be The New Norm
As of Thursday evening, the Tennessee General Assembly's web pages for each district listed the seat's as "vacant" and photos of both former legislators had been removed.

The Republican-led vote to expel Pearson and Jones came in the wake of anger from many Tennesseeans over the legislature's refusal to consider any new gun-control reforms following a mass shooting at The Covenant School, a Nashville parochial school, left six people, including three children, dead. The assailant, a former Covenant student who was killed by police, used an AR-15 assault rifle, a powerful semi-automatic weapon that has been used in multiple deadly mass shootings and which many argue should be banned.

That shooting framed an angry protest at the Capitol, which Jones and Pearson joined. Republicans argued that their participation violated the legislature's rules, using that as a rationale to call a vote to expel them, along with a third Democrat, Rep. Gloria Johnson.


But Johnson–who is white–actually survived the vote to remove her from her seat, telling reporters afterwards that she believes race played a part in how the votes went down (ya think?).

Jones gave an impassioned speech on the House floor just ahead of the vote.
"For so long this body, drunk with power, has modeled for the world what we know as nothing less than authoritarianism. And today is the climax of that behavior."

Both expelled lawmakers are eligible to run for their seats again, but for the time being, their constituents have no representation in Tennessee's General Assembly.