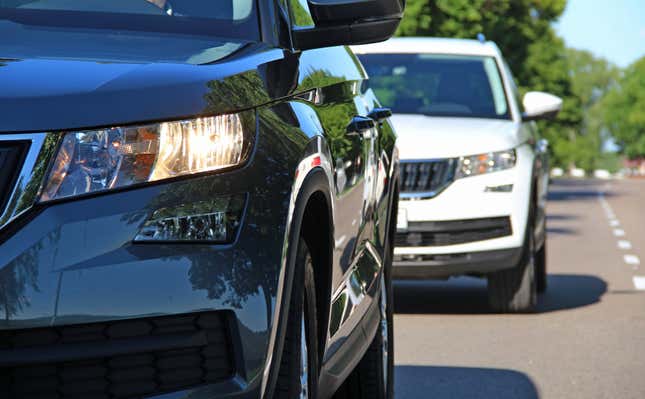 Two Massachusetts men were both due in court to answer to the same crime: racist road raging. One driver had fatally struck the victim with his vehicle and the other driver was an officer sworn to protect and serve.

In 2021, 56-year-old Dean Kapsalis of Hudson got into an argument with 34-year-old Henry Tapia over turn signals, per Boston.com. Kapsalis hit Tapia with his pickup truck and fled the scene. Tapia died later at the hospital from the life-threatening injuries he sustained. Prosecutors said the last thing Tapia heard before being struck with the vehicle were menacing words threatening him because of his race. 
In 2022, Hingham police officer Joel Salituri followed another man from the interstate, off the exit and to a parking lot. According to NBC Boston, Salituri pulled up next to the man's vehicle shouting racial slurs and flashing his firearm. He told the man he was an officer but the district attorney's office found he was off duty at the time. The report doesn't mention Salituri attempting to make an arrest.
The two found themselves in the same courtroom in front of the same prosecutor, Middlesex District Attorney Marian Ryan on May 1 to answer for their foolishness.
Mr. Kapsalis was handed a conviction while the officer was handed charges.
Read more from Boston.com:
Kapsalis has been found guilty of second-degree murder; a violation of constitutional rights causing serious bodily injury; assault and battery by means of a dangerous weapon causing serious bodily injury; and leaving the scene after causing injury, Ryan announced.

"What is significant about today's verdict is that in Middlesex County, when we have violent incidents that are motivated by hate and bigotry, those will not be seen as just background facts," Ryan continued. "We will charge those separately, prosecute that crime separately, and seek accountability for that piece of what happened."
Officer Salituri was charged with assault with a dangerous weapon but was released on bail and given an order to stay away from the man he allegedly threatened. He was also put on leave from the department pending his trial. District Attorney Ryan said additional charges may be added based on his use of racial slurs and also, for Kapsalis' case as well.
The last we heard of a racist road rage case like this was with Hunter Holman of Las Vegas who swung his car toward a Black family on the sidewalk while spitting racial slurs. He was arrested and handed hate crime charges.
Road rage is already dangerous on its own. Racist violence on top of that is lethal.