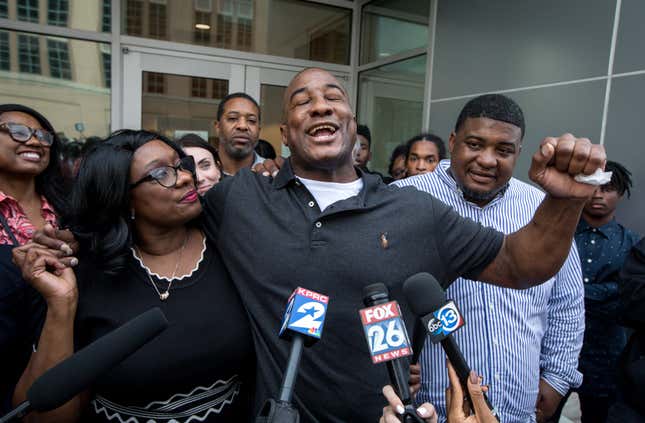 Lydell Grant enjoyed four years out of prison after being exonerated from a crime he did not commit. However, his freedom is in jeopardy once again after a road rage incident that left one driver shot to death and Grant named as the prime suspect by police, according to ABC 13.

Small Town Horror: The Story of a SWAT Team That Set A House Ablaze
Grant was sentenced to life in prison in 2012 in the fatal stabbing of Aaron Scheerhorn. He tried to appeal his case all the way up to the Supreme Court and was denied every time. Reports say the Innocence Project of Texas agreed to take on the case and found through DNA matching that the killer was not Grant. The true suspect allegedly ended up confessing to the murder. By then, Grant spent eight years in prison and was released in 2019.
However, after celebrating another victory of righting the wrongs of the criminal justice system, Grant found himself back in handcuffs.
Read more from ABC13 News:
The incident happened Thursday at about 11:50 p.m. near Hiram Clarke Road and Brentwood Park Drive.

Houston police believe Grant and another woman were leaving a corner store when he ran a stop sign, causing a Toyota to hit him.

Grant allegedly got out of his car and then fired multiple shots through the windshield of the Toyota before getting back into his car and taking off. The driver of the Toyota, 33-year-old Edwin Arevalo, died at the scene.

The accusations against Grant were read in probable cause court overnight. Investigators say that surveillance video helped them identify Grant as the suspect, leading to his arrest on Friday.
Grant is being held on a $1 million bond. The Innocence Project of Texas didn't comment much on the case but offered their sympathies to his family.
"As this is an ongoing investigation, we cannot comment on the specifics of this incident. We stand behind Mr. Grant's previous exoneration, which was granted by the Texas Court of Criminal Appeals," they said in a statement.
This incident may suggest to some that Grant was always prone to criminal behavior regardless of his exoneration. However, the prison system doesn't provide the "rehabilitation" for those who commit crimes and turn them into law abiding citizens. Often, those people leave prison and commit more crimes. The Vera Institute found 5 in 6 state prisoners released in 2005 were arrested for new crimes within nine years of their freedom.
Who knows what kind of impact the violent and dehumanizing environment of state prison can have on someone who is actually innocent?