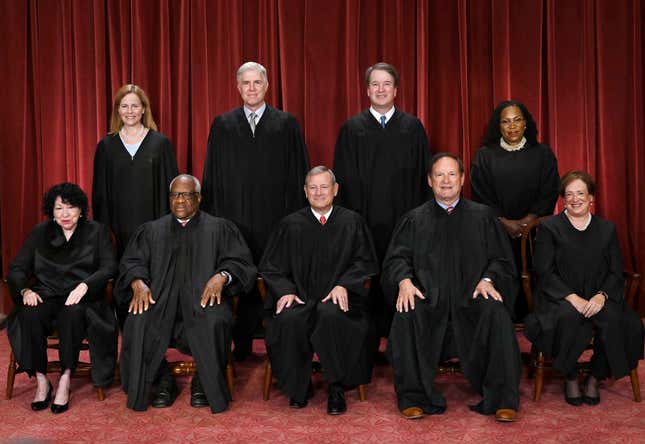 The Impact
There's an old expression, popularized by James Bond novelist Ian Fleming, that says, "Once is happenstance. Twice is a coincidence. Three times is enemy action."
The Biden And Trump Classified Documents Scandal Explained
What about four?
I ask because, over the past year, the Conservative Activist Supreme Court has issued four landmark decisions targeting four different constituencies (women, African Americans, young voters and the LGBTQ+ community) which, as far as I can tell, only really have one thing in common: they vote Democrat. 
Now, I say they vote Democrat, but I want to be clear that these four constituencies are not inherently Democratic. In fact, like most Americans, they are pro-value and anti-institution—which is to say that they are loyal to their values and issues instead of any particular party. They tend to vote for Democrats not because of the "D," but because Democrats are on the right side of their issues and, for that matter, history.
Still, this court is targeting them and the issues they care about in a grand and transparent fashion and, whether we're talking about overturning Roe v Wade, striking down affirmative action, blocking student debt relief or telling a Colorado web designer that she can openly discriminate against gay couples to her heart's content, their shots are finding their marks.
The simple fact is that right-wing conservatives have turned the highest court in the land into a political attack dog and the impact is real.
Four groups have already felt the bite and, unless we start realizing that elections have consequences that reach far beyond a four-year term, any of us could be next. 
Women 
There is little doubt that, while clearly not a monolithic voting bloc, the majority of women vote Democratic. In fact, according to the Center for American Women in Politics, "In every presidential election since 1996, a majority of women have preferred the Democratic candidate."
In fact, as a whole, as many as 57 percent of women voted for Joe Biden in the 2020 Presidential Election, generating a 15-point advantage that even topped Hillary Clinton's 13-point advantage in 2016. That disparity is even greater among women of color. Among Asian women, 69 percent voted for Biden; 73 percent of Latinx women voted the same way; and among Black women, between 90-94 percent of Black women cast their ballots in favor of Joe Biden, proving absolutely vital in states like Michigan, Pennsylvania and Georgia.
So we shouldn't have been surprised last year when this activist Supreme Court, driven by Clarence Thomas and right-wing Trump appointees like Neil Gorsuch, Brett Kavanaugh and Amy Coney Barrett, took aim at women voters and overturned Roe v Wade, putting countless women at risk and taking away their constitutionally protected right to choose.
Think elections don't matter? Well, they do if you're a woman.
African Americans
In 2020, VoteCast reported that 87 percent of Black men and 93 percent of Black women voted for Joe Biden. That's a total of 91 percent of Black voters casting their ballots in favor of the Democratic presidential candidate. Combine that with a near-historic turnout and Black voters accounted for millions of Biden votes. For example, according to the Brookings Institution, Black voters accounted for 20 percent of all Democratic votes in Michigan. In Pennsylvania, where we're only 12 percent of the population, we represented 21 percent of the Democratic vote. And in Georgia, more than half of all Democratic voters were black.
Do you think that matters for President Biden? Of course, it does. Do you think it matters to Sen. John Fetterman of Pennsylvania or Senators Jon Ossoff and Ralph Warnock from Georgia? Absolutely.
 The simple fact is that when Black voters turnout, like we did in 2006, 2008, 2012, 2019 and 2020, Democrats win. When we stay home, like in 2016, Democrats lose.
Democrats aren't the only ones who noticed that trend. That's why MAGA Republicans passed and proposed hundreds of new laws to suppress the Black vote following the 2020 election and, last month, they brought out the big guns with the Supreme Court striking down affirmative action in college admissions. Of course, that only applies to race. The Supreme Court doesn't have any problem for affirmative action where it applies to white legacy students. 
Young Voters
When it comes to young voters, I'm sure you've heard the news by now: Gen Z and Millennial voters came out in droves in 2020, voting for Biden over Trump by a 20-point margin. In fact, VoteCast tells us that it was more more than 60 percent of voters between the ages of 18-29 in 2020. And if you're talking about women, that number increases to 67 percent.
But did you know that Democrats have held a pronounced advantage among young voters in every midterm or presidential election since the late 1990s and that, coupled with a dramatic surge in turnout, their support helped turn back a "red wave" in the 2022 midterms? It's true. 
Now this activist Supreme Court has taken aim at them too by striking down President Biden's plan to provide critical student debt relief for roughly 43 million Americans (95 percent of borrowers) and cancel student debt entirely for nearly 20 million Americans.
LGBTQ+ 
Finally, we have the LGBTQ+ community, who, according to the Human Rights Campaign (HRC), stepped up and delivered 81 percent of their votes to Democrats up and down the ballot in the 2022 midterms after casting 81 percent of their votes for Joe Biden in 2020.
In response, this conservative Court leveraged the most ridiculous set of circumstances that I can remember in order to say bigots don't have to serve gay clients…kind of. I mean, the plaintiff, in this case, isn't even gay, never has been gay, and appears to have had his identity used without his knowledge or consent.
And the Supreme Court was so set on ruling against the LGBTQ+ community, they didn't even notice that the whole thing appears to be manufactured.
Conclusion
Now, let's be clear. Each court decision impacts an intersection of constituencies. The court overturning Roe v Wade impacts the Black community and young voters in addition to women. Likewise, striking down affirmative action impacts young people, blocking student debt relief devastated Black voters and a court that targets any constituency without care for justice, the law or even the basic facts of a case affects all of us. 
But I wanted to be clear: This conservative activist court is targeting constituencies that have consistently stood up for Democrats and democracy. 
Left unchecked, this Republican majority court will cement right-wing values even when the majority of the country disagrees with these decisions. Make no mistake about it: this is rule by a minority—the exact thing the framers of the Constitution warned us about.

Many of you are likely wondering what can be done or you might feel powerless at the moment by the kamikaze-style, right-wing rollback of progress won by many movements over the past century. Never lose sight of the fact that we do still govern in a democracy despite it getting testing. We can pass laws that check the power of the Supreme Court. There are many options floating around to check the Supreme Court, but the basic solution cannot be underestimated. Congress can act and pass the laws that would enshrine any right that the Supreme Court strips away. And most importantly, you can vote to get the right people in office as well as take the wrong ones out.
This isn't a game. Elections matter and their impacts are felt far longer than a four-year term in the White House.
Think about that the next time Election Day comes along. These judges, despite their recklessness, are appointed for life. I'd say stopping them is worth your vote.