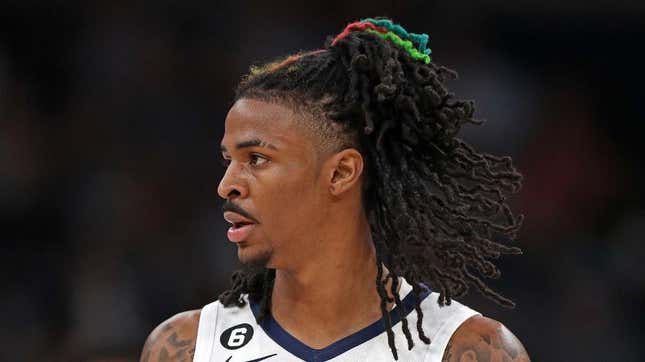 Things are getting really really bad for Ja Morant as he waits for an inevitable suspension from the NBA after he was seen holding a gun in another Instagram live video over the weekend.
On Tuesday, the star guard for the Memphis Grizzlies released a statement about the clip, saying, "I know I've disappointed a lot of people who have supported me. This is a journey and I recognize there is more work to do. My words may not mean much right now, but I take full accountability for my actions. I'm committed to continuing to work on myself."
This statement obviously comes with a grain of salt, as he released a similar one just two months ago yet once again finds himself in a similar situation.
What will the NBA do now? Despite the first Instagram Live clip being more appalling, his suspension was not that bad as he was only suspended for eight games. In the second video, which circulated on social media throughout the weekend, Morant can only be seen holding the firearm for barely a second. But because it's his second "incident" involving a gun, NBA Commissioner Adam Silver foresees a much more severe punishment.
In an interview with ESPN on Tuesday, Silver outlined the conversation he initially had with Morant after he was suspended in March and said they talked directly about the consequences he would face if it were to happen again.
He continued, "I was left with the sense that he was taking this incredibly seriously. Honestly, I was shocked when I saw this weekend—that video. Now, we're in the process of investigating it. We'll figure out exactly what happened to the best we can, again the video is a bit grainy and all that. But, I'm assuming the worst."
That response sounded like a parent who said, "I'm not angry, I'm disappointed" after finding out that their child had done something wrong. This is how a lot of people who are fans of the superstar guard feel.
While this second video did not look as damning, it still wasn't smart to be seen with a gun again. So I hope Ja really learns from his mistakes this time because if he's seen holding even a toy gun, I don't even want to think about the consequences he could face from the NBA.