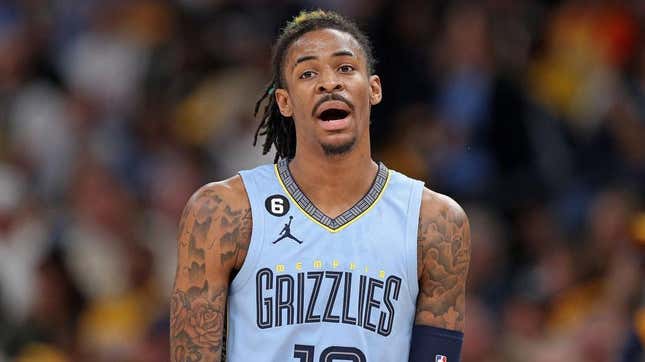 The whole NBA community let out a disappointing sigh when the latest news about Ja Morant was reported on Sunday.
You Okay Fam?: Should You See A Therapist Without Having A Problem?
The Memphis Grizzlies announced that their star guard has been suspended from team activities after he was seen flashing a gun on Instagram Live. Again.

No, you're not having deja vu, nearly two months after he was seen brandishing a gun at a Denver area nightclub on his own Instagram Live, the 23-year-old was seen doing the same thing again on Sunday on someone else's Instagram Live.
The video shows Morant and his friend innocently dancing in the car with music playing. But at one point in the video, when the person holding the phone points the camera toward Ja, he's seen holding a gun, which leads to the person moving the camera quickly. But the damage was already done.
When is he going to learn? When he first appeared to be brandishing a gun on video two months ago, there was a sense that this was just a young kid who made a mistake. Many in the sports and Black community did not want to see such an awesome and talented athlete squandering such a golden opportunity.
The sentiment this time around is much harsher.
Not only were you previously seen holding a gun, but you were also reprimanded for your actions. It's also likely that it hurt your chances to make an All-NBA team this season, which hurt your chances to add nearly $40 million to your contract extension. Doing it again is inexcusable. He knows that the heat is on him. He knows that he can't even be seen next to a toy water gun at Walmart. But to pull out a gun of your own volition is beyond idiotic.
I can already see people playing the devil's advocate: "He wasn't hurting anyone!" "What if he bought those guns legally?" "What if he's a gun enthusiast?" "What if he was white?"
None of that matters. Hypotheticals won't protect Ja from real-life consequences. You work for the NBA and the Memphis Grizzlies. You are a representative of both of those brands and organizations. You work in a state that is experiencing a recent increase in gun violence. The optics are just all bad. It would be one thing if he constantly talks about the need for safe gun use and the need to be trained properly with it and to obtain the appropriate license. But he doesn't, so that excuse should not apply.
Just think, if you were seen on IG Live flashing a gun, would you keep your job? Probably not.