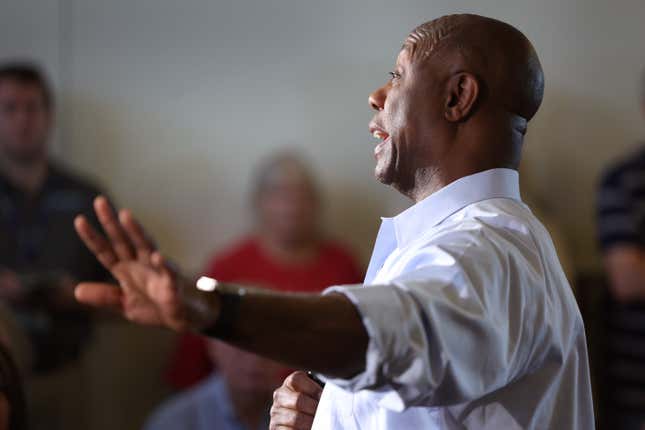 Updated 07/28/2023 at 10:00 a.m. ET

Senator Tim Scott (R-SC.) joined the fray on Thursday, calling out Florida's new education standards, suggesting that schools teach that enslaved people benefited from slavery by learning new skills. "There is no silver lining … in slavery," said Scott, who is running for President against Florida Republican Governor Ron DeSantis on Thursday.
White People, Here's Why We Need Black History Month
"The truth is that anything you can learn, any benefits that people suggest you had during slavery, you would have had as a free person," he said. "What slavery was really about was separating families, mutilating humans, and even raping their wives. It was just devastating."
Scott subtly called out his primary opponent, who defended the new standards by arguing that enslaved people picked up new skills while being held captive.
"I would hope that every person in our country — and certainly running for president — would appreciate that," said Scott. "People have bad days. Sometimes they regret what they say. And we should ask them again to clarify their positions."
Scott isn't the only Black Republican going after the new standards. "The new African-American standards in FL are good, robust, & accurate. That being said, the attempt to feature the personal benefits of slavery is wrong & needs to be adjusted," tweeted Florida Rep. Bryon Donalds (R-Naples). "That obviously wasn't the goal & I have faith that FLDOE will correct this."
To be clear, Donalds isn't someone who typically has a problem with racist rhetoric. Donalds had no problem joining the far-right House Freedom Caucus or backing former-President Donald Trump, whose bigotry seems to know no bounds. But Donalds does appear to have a line — and aspects of the state's bizarre new Black history directive seem to have crossed it.
The fact that Donalds is (somewhat) pushing back against the Republican Governor of his state did not go unnoticed by DeSantis' supporters.
"Did Kamala Harris write this?" tweeted DeSantis' 2024 campaign rapid response director Christina Pushaw, in response.
Despite the jabs from team DeSantis, don't be fooled; Donalds and Scott aren't suddenly going to become anti-racist crusaders. But it seems that for some on the far-right, DeSantis' specific brand of shenanigans isn't sitting right.