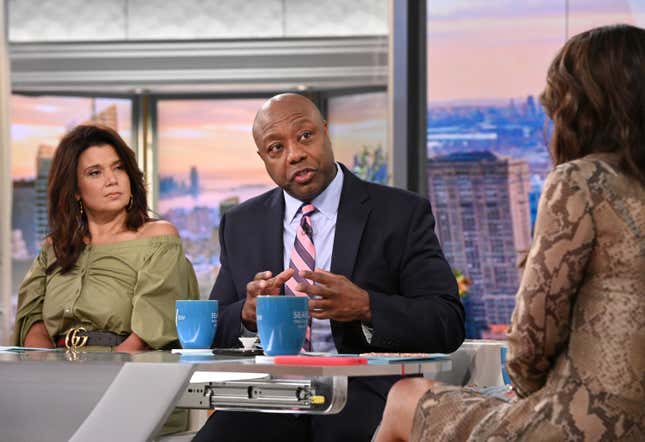 Senator Tim Scott, U.S. presidential hopeful joined the ladies of The View on Monday morning but had far from an easy time on the panel. He claimed that he wanted to come on the show to address previous comments made on the show by co-host Joy Behar that compared him to Clarence Thomas, saying, "[a] Black Republican who believes in pulling yourself by the bootstraps, rather than to me, understanding the systemic racism that African Americans face in this country and other minorities. He doesn't get it. Neither does Clarence. And that's why they're Republicans."

Co-host Sunny Hostin brought forward the conversation to address Scotts's views on systemic racism. She emphasized that all of the Black people at the table are "the exception but not the rule." She also brought up that systemic racism is what leads to racial inequality in core aspects of economics, education, healthcare, criminal justice, and housing. She then gave the floor to Scott to give his own explanation of systemic racism.
Small Town Horror: The Story of the Largest African Burial Ground in the U.S.
Instead of Scott agreeing that systemic racism is prevalent in America, he emphasized that his life is the way it is because of, "character, grit and talent." He also explained how offended he was by being called the "exception" saying, "That is a dangerous, offensive, disgusting message to send to our young people today, that the only way to succeed is by being the exception…I'm gonna suggest the fact of the matter is that progress in America is palpable."
Hostin pushed further giving him facts: Scott was the first Black person to become a senator in the South since the Reconstruction, which is over 100 years ago. He was only one Black senator out of 50 in the U.S. but doesn't believe that it's due to a systemic issue. He went on to count a few other Black people that have served in political positions despite being told that that was the issue, that only 3% of Black people (according to a co-host's statistic) have served on the Senate despite Black people being more than 13% of the U.S. population.

Aside from denying that systemic racism has caused a divide in America, Senator Scott was met with booing from the studio audience after voicing his support of Ron DeSantis in his fight against Disney saying, "Disney and Ron have been in a combat zone over what I thought is the right issue, which is our young kids and what they are being indoctrinated with." Ron DeSantis has been in a battle to stop tax breaks for the popular theme park after Disney criticized his "Don't Say Gay" bill.