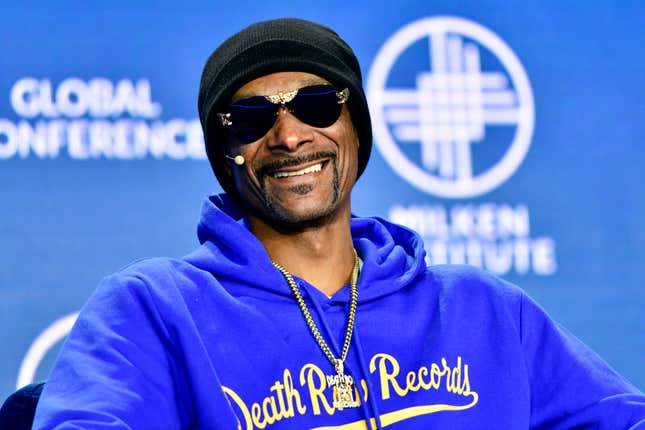 Barbie's $1.4 billion box office may make it the biggest movie of the year, but there's one review we've all really been waiting for: Snoop Dogg. That's right, the Doggfather himself recently took a trip to Barbieland and his reaction is priceless.

Kelly Rowland and Marsai Martin On Their New Film "Fantasy Football"
In an Instagram video posted Tuesday, the "What's My Name" rapper said, "Just got back from seeing Barbie. That shit was funny as a muthafucka. Me and my wife was in there laughing like a muthafucka. And you do know that!" I don't want to speculate on Snoop's state of mind, but it's possible he may have participated in his favorite plant-based activity.
In case you haven't had a chance to check out the pink powered blockbuster, it stars Margot Robbie as a Barbie doll who decides to explore the real world after she has an existential crisis. She's followed by Ryan Gosling's love struck Ken, leading to lots of shenanigans and an interesting study of Barbie's effect on traditional gender roles. The star-studded cast includes Issa Rae; Alexandra Shipp; Dua Lipa; Kate McKinnon; Simu Liu; Kingsley Ben-Adir; and John Cena as various versions of Barbie and Ken.
I learned a long time ago to expect the unexpected when it comes to Snoop, but I still wasn't ready for him to drop the best Barbie review of the year. What I really need to know is will he appear as one of the Kens in the inevitable sequel. No Barbie 2 plans have been officially announced, but whenever a movie makes over a billion dollars you can pretty much guarantee a sequel is coming. Personally, I vote for Botanist Ken, who has a very specific area of expertise. Or maybe they'll go with the obvious and just have him be Rapper Ken, so Snoop can perform in the movie.
Also, I need the rap legend to start his own movie review podcast, because now I want to know the Long Beach native's thoughts on other films. Did Oppenheimer have him thinking about the true dangers of nuclear war? Does he think Indiana Jones and the Dial of Destiny stands up against the rest of the franchise? And most importantly, what are his thoughts on Halle Bailey as Ariel? Come on Snoop, it's what the people want.