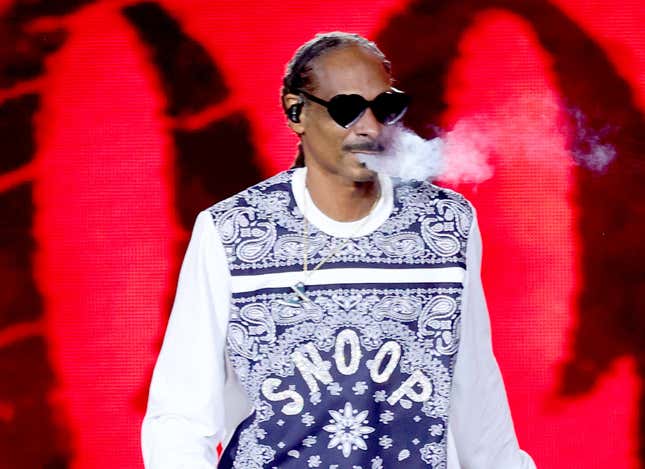 Snoop Dogg has been called a lot of things in his long career, but he's never been labeled as lazy. Everytime you turn around, the "Drop It Like it's Hot" rapper has a new job, business or project brewing. Now, we know what his secret is: LinkedIn. That's right, the Doggfather himself has joined the career and employment social media site. Unfortunately, his profile page isn't as fun as we'd want it to be, so we have some ideas for how he can freshen it up.

My Hip-Hop Story: Jeezy Recalls Pioneering Southern Rap, 2Pac, & His Favorite Hip-Hop Videos
Employment
At the top of his profile he lists CEO - Death Row Records, Founder - Snoopadelic Pictures and Founder - Doggy Style Records as his most recent employment. These are all very impressive, but where are the real titles that will grab followers?
Shouldn't we also see rap legend, hitmaker and Martha Stewart's best friend? Seriously, nothing Snoop has ever done has raised his profile the way hanging out with Martha has. Somehow, it's also made her seem more approachable.
Activity
Admittedly, we can't beat his post on the dangers of AI. Along with a video of himself explaining how he had a conversation with an AI, the Doggystyle artist had some interesting questions about artificial intelligence.
"Are we all in a movie right now with AI? Sure as hell feels like it," he wrote. "AI has me confused as y'all. But I only know one thing: Real Snoop > AI Snoop."
I didn't expect Snoop Dogg to have the most fascinating take on AI buried in his LinkedIn page, but here we are. Is he right? Are we actually living in a movie? Though, if we are, it would explain how a rapper who was once famous for his criminal background is now listed as a CEO on LinkedIn.
Projects
Soul Plane!? Really!? We all have jobs we don't like to list on our resumes, so I feel like he probably should've left that one off. Personally, I would've gone with his show-stealing performance at WrestleMania 39.
Skills
Under special skills most of list the languages, certifications and software we're experts in. Snoop went with hip-hop, music production and music industry. Come on, cannabis expert is right there. Let's be honest, at this point in his life, the man is more famous for his love of weed than he is for his music.
All kidding aside, it's pretty fascinating to explore how he's managed to evolve from gangsta rapper into CEO/entrepreneur.