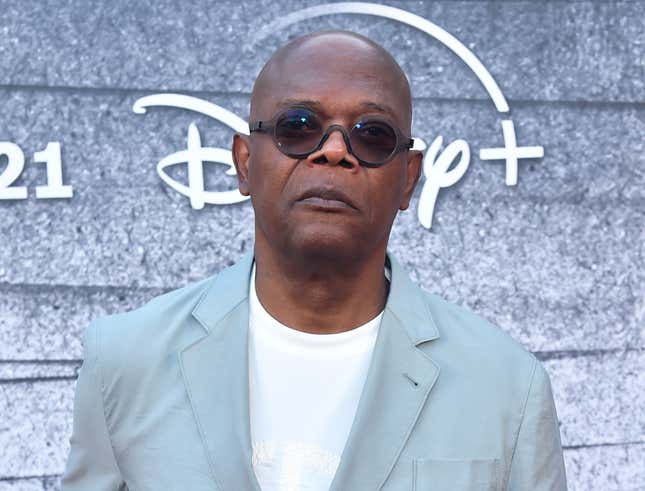 As Samuel L. Jackson's Nick Fury finally takes center stage in the new Disney+ series, Secret Invasion, the actor is looking back on his time in the Marvel Cinematic Universe. Turns out, he's been asking himself the same question we've all been wondering about since 2018. Why hasn't Nick Fury been to Wakanda?

Samuel L. Jackson Returns As Nick Fury in Marvel's Secret Invasion–Our TV Pick This Week
"I'm still trying to figure out why I've never been to Wakanda," Jackson told Entertainment Tonight. "They didn't ask me to go, but I'm still trying to get there. I need a ticket."
As we learned in Black Panther, Wakanda kept itself secret for years, letting the world think it was just another underdeveloped African nation. However, Tony Stark had it right when he told Steve Rogers that Nick Fury's "secrets have secrets." Are you trying to convince me that he's known about Skrulls since the '90s, but hasn't known the truth about Wakanda? I'm not buying it for a second. He's totally been to Wakanda and I'm ready for them to give me a flashback scene between Fury, King T'Chaka and Queen Ramonda.
Jackson has been the glue of the MCU since he shocked us all in the Iron Man post-credits scene 15 years ago. For movie snobs wondering why the prolific actor is still so intrigued by the franchise, he has a very simple reason: he's having fun.
"I was never going to let the Oscars be a measure of my success or failure as an actor," Jackson told the Los Angeles Times. "My yardstick of success is my happiness: Am I satisfied with what I'm doing? I'm not doing statue-chasing movies. You know, 'If you do this movie, you'll win an Oscar.' No, thanks. I'd rather be Nick Fury. Or having fun being Mace Windu with a lightsaber in my hand."
His latest adventure finds Nick Fury reuniting with his closest allies as he tries to stop a takeover by a rogue faction of Skrulls. The six-episode limited series offers Jackson a showcase to portray a more grounded, human version of the superspy. It's the story we've been waiting 15 years to see the actor get.
Secret Invasion premieres June 21 on Disney+, with new episodes debuting every Wednesday.