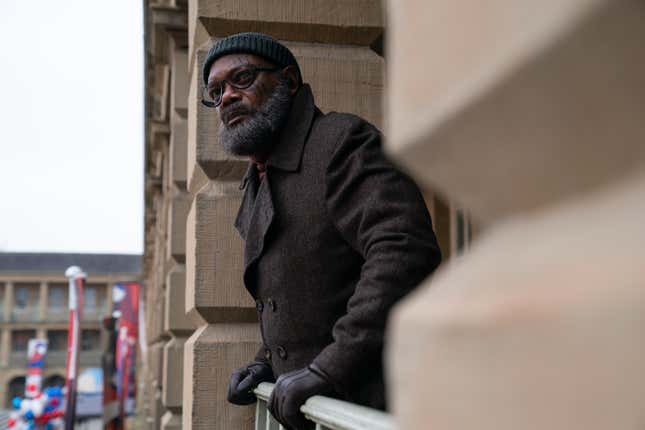 From the moment he popped up in that Iron Man post-credits scene, Nick Fury has been presented as a badass superspy who is ready for every possible contingency. In Secret Invasion, the MCU finally explores how much all these fights and their losses have broken him. The first two episodes of the series are a surprise-filled spy thriller that makes fans question everything they thought they knew about the MCU. The six-episode limited series is a politically charged "trust no one" spy story that just happens to involve aliens. The MCU is always at its best when the fantastical comic book stories are just the setting for grounded, human characters, and that's what we get here. Plus, after 15 years, we finally get a look at the man behind the superspy.

Samuel L. Jackson Returns As Nick Fury in Marvel's Secret Invasion–Our TV Pick This Week
If you've been paying attention to the MCU since Spider-Man: Far From Home, then you know Nick Fury hasn't been on Earth. Turns out he's been working on secret space stuff, but he's also been hiding. In the aftermath of the Blip, the many hard choices and sacrifices that come from a life spent in espionage finally caught up with him and he needed some time away. But like any real hero, he puts his personal issues aside when it's time to protect the Earth. A rogue group of Skrulls has decided to take over the world and Fury works with his old friend Talos (Ben Mendelsohn) and a few other familiar faces to stop them. What separates this from similar series, is that the viewer—much like the heroes—doesn't know who they can trust. It's really hard to figure out who the enemy is when it can be literally anyone.
As captivating as the story is, Secret Invasion is 100 percent a showcase for Samuel L. Jackson. If I have one major complaint for the MCU, it's that they've been wasting the actor's extraordinary talent on quick cameos and surprise appearances all these years. However, Fury is in his full spectacular form here, as we see all sides of the character. He's tired, guilt-ridden and angry, but he's also still a cocky motherfucker who never lets anyone forget exactly who he is. The mystery that surrounds Nick Fury is part of his appeal, but it's also fascinating to see the man who must struggle with his life choices in secret.
We also need to talk about Don Cheadle's absolutely pitch perfect performance as James "Rhodey" Rhodes. He's making the transition from military man to political operative and while it's clearly not easy for him, he's juggling all the elements of his new job in an extremely interesting way. There's a standout scene between Cheadle and Jackson that is nothing short of an acting masterclass. The way they play off one another is like watching a thrilling game of one-on-one between prime Magic and Bird. Yes, it's that good.
If the first two episodes of Secret Invasion are any indication of what we'll see from the rest of the series, then fans should be prepared for a possible total reset of the franchise. My nerdy Spidey-sense is telling me that we may get something similar to what the MCU went through after Captain America: The Winter Soldier rewrote S.H.I.E.L.D. and HYDRA's history.
From WandaVision, to Loki, to Ms. Marvel, and now Secret Invasion, Marvel's TV side just keeps delivering complex, captivating stories that we can't stop analyzing and rewatching long after they wrap up their run.

Secret Invasion premieres June 21 on Disney+, with new episodes debuting every Wednesday.