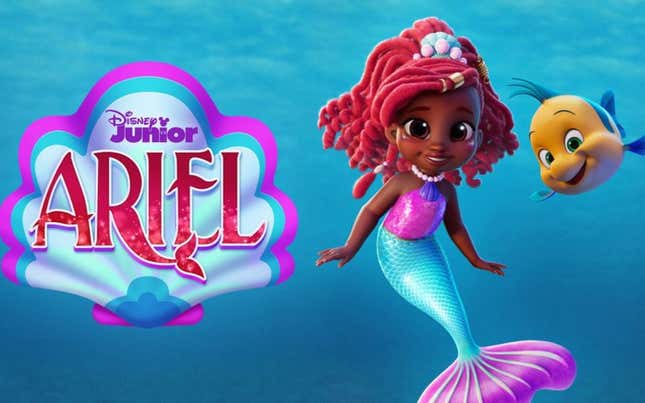 Disney's expansive slate of franchises is feeling the effects of the ongoing WGA writer's strike. With various productions shut down, the inevitable schedule changes are being announced for some of the company's most popular properties. However, let's start with the good news. In light of The Little Mermaid's success, it appears the House of Mouse wants more stories centered around Halle Bailey's Ariel.

A League of Their Own's Chanté Adams Plays That's So Random
Disney Junior's Ariel
At the Annecy Animation Festival, Disney Branded Television announced the new series for preschoolers, Disney Junior's Ariel. It features a younger version of the Black Ariel from the movie going on adventures in Atlantica. Per a press release provided to The Root, "the multicultural diversity of the Caribbean is highlighted through music, food, festivals, fashion, language and folklore." The show is set to debut in 2024 and will include King Triton, Ursula, Sebastian and Flounder, though there's no word on if any of the film's stars will be involved in the series.
It is so exciting that this princess' story will continue on past the movie. It's especially important that Ariel's new adventures will be geared toward younger audiences. The earlier we normalize a diverse, inclusive world for kids, the better. When they see Ariel hanging out with friends from multiple backgrounds, it inspires them to seek friendships outside of their every day worlds.
MCU Schedule Changes
Now, about that bad news. Marvel Studios has been forced to change its schedule and push its slate back a year. I hope you weren't waiting on pins and needles for Anthony Mackie's Captain America: Brave New World because now it won't hit theaters until July 26, 2024. That's only a few months later than its original date, which is the least frustrating change the company announced. Since everything is connected in the MCU, that shift pushes Thunderbolts to December 20, 2024. The embattled vampire drama Blade suffers more setbacks, with the film now scheduled for February 14, 2025. The Multiverse Saga rounds out with Fantastic Four on May 2, 2025, Avengers: The Kang Dynasty moves an entire year later to May 1, 2026, which pushes Avengers: Secret Wars to May 7, 2027.
At this point, I'm wondering if we'll ever actually get Blade. The project has hit more obstacles than any film in recent memory. From a director change, to a previous date change, to rumors about the script being subpar, to question marks about Mahershala Ali's continued involvement, literally nothing has gone right for the Daywalker's new big screen journey.
As for the other movies, I can only hope that Marvel has plenty of good TV lined up to keep us occupied during these long waits. It's not all bad news. Deadpool 3 is actually coming out earlier. Its date has been moved up to May 3, 2024, which previously belonged to Brave New World.
New Star Wars
Since Episode IX: The Rise of Skywalker was released, Disney has been somewhat quiet about its Star Wars movie plans. Apparently, something is in the works, as new trips to a galaxy far, far away are set for May 22, 2026; December 18, 2026; and December 17, 2027.
As usual, Lucsfilm is playing things close to the vest, but earlier this year at the Star Wars Celebration convention, a new film featuring Daisy Ridley's Rey was announced. James Mangold (Logan) is directing a film set 25,000 years before the original trilogy, while Dave Filoni will helm a New Republic focused movie that ties together all the stories of the Disney+ series.
Speaking of the series, until 2026 I can keep myself busy with Ahsoka; The Acolyte; Andor Season 2; and maybe more of The Mandalorian.
Endless Avatar
Finally, if Avatar is your jam, you'll be eating good for the next eight years. That's right, I said eight years. Here's your schedule for all the upcoming trips back to Pandora. Avatar 3 on December 19, 2025; Avatar 4 on December 21, 2029; and Avatar 5 on December 19, 2031.