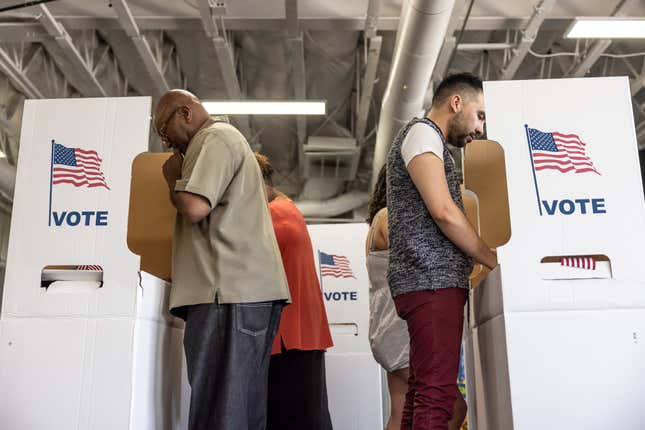 Florida Republicans are dumping even more money into Florida Governor Ron DeSantis' election cops. Lawmakers in the state just signed off on the Governor's budget, which includes an additional $1.4 million for the Office of Election Crimes and Security.
Small Town Horror: The Story Of A Black Teen Attacked By A "Missile"
Since we're talking about Florida, elections, and DeSantis, it probably won't shock you to hear that there's been major controversy around the office, which was created in 2022. Earlier this week, the Washington Post spoke to Peter Washington, a Black Floridian, who was arrested last summer by DeSantis' election police unit for allegedly voting illegally.
The case against Washington quickly fell apart after his attorney noted that he'd received an official voter identification in the mail. But that didn't stop his life from falling apart. Washington lost his job supervising irrigation projects and his family's health insurance. His wife even had to stop taking classes at Florida International University, so she could help pay the rent. All because Desantis' election cops decided to target him.
"It knocked me to my knees if you want to know the truth," Washington told The Post.
Florida Republicans have defended the investment in the election office. "Election integrity is a foundational component of our system of government," Republican state Representation Alex Andrade, who worked directly on the election investigation office portion of the budget, told NBC News.
However, the case for the office is pretty dicey when you look at the numbers. Washington's case isn't the only one that completely fell apart with just a small dose of scrutiny. Of the 20 people arrested, six cases were dismissed, five resulted in plea deals, only one went to trial, and the remaining cases are still pending. The office, which in the most generous estimation, made successful cases against five people, will now have $3.1 million budget.
But just because the election cops aren't very good at stopping election fraud doesn't mean they can't serve another purpose, scaring Black voters. During the midterms, Black voters told reporters at The Washington Post that they were afraid to go to the polls because they were worried about facing legal trouble.
This is hardly the only effort on DeSantis's part to try to create barriers to voting. The Root wrote about DeSantis' gerrymandering tactics last month;
We now have ample reporting from ProPublica and The Guardian that DeSantis was deeply involved in redrawing the new congressional district maps last year. According to reporting from The Guardian, DeSantis's new map not only heavily favored Republicans, but it also cut the number of districts where Black voters had a chance to elect a candidate in half.

In a lawsuit, the Florida GOP was accused of using a two-pronged disenfranchisement strategy known as "cracking" and "packing" in predominantly Black districts. To simplify it a little, "cracking" refers to splitting a minority group amongst new districts to dilute their political power. So, for example, the new map split Black voters in Jacksonville into two different maps, diminishing their ability to pick a candidate. "Packing" is the opposite strategy. Essentially, you "pack" as many minority voters into one or two districts so you can limit the number of seats the group can get in Congress. The litigation is still ongoing, so we'll see how that shakes out.
Unfortunately, with Florida Republicans backing him, it doesn't look like DeSantis has plans to slow down his disenfranchisement efforts anytime soon.