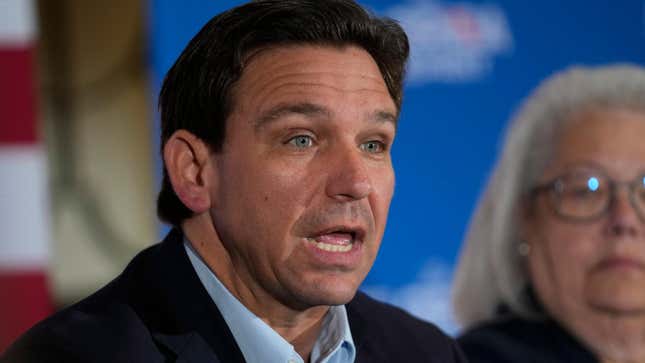 Ron DeSantis' governorship—which started in 2019—has featured racist attacks on critical race theory/diversity initiatives, anti-trans legislation and policies that only made Covid-19 worse. Now, he plans on taking his white supremacist rhetoric to the national stage by making a 2024 presidential bid for the White House.
Beyoncé Becomes The Queen of The Grammys With Record Wins
DeSantis will announce the news with Twitter CEO and fellow bigot Elon Musk during an online talk. Musk will host DeSantis on Twitter Spaces, the social media app's for live audio chats, on Wednesday (May 24) at 6 p.m. ET. David Sacks, who is an avid DeSantis supporter and tech entrepreneur, is scheduled to moderate the discussion.
Musk seemingly confirmed the news on Tuesday by retweeting a reporter from Fox News who shared the planned talk. In addition, Fox has also stated that DeSantis will appear in an interview for the network with former South Carolina congressman Trey Gowdy. The Florida governor will then start visiting several states after Memorial Day.
The announcement aligns with a retreat for high-end fundraisers pledged to support DeSantis in Miami. Though Musk has insisted he is moderate and believes in "free speech," his Twitter takeover saw an increase in racist language and slurs. Musk has also stated his support of DeSantis in the past and that he would be victorious in a faceoff with Biden in 2024.
"If DeSantis runs against Biden in 2024, then DeSantis will easily win – he doesn't even need to campaign," he commented. Musk recently announced that he will resign as the CEO of Twitter and that Linda Yaccarino, who previously worked as the head of ad sales for NBCUniversal, will be his successor.
What does this all mean for Black and brown people and LGBT community? The answer? Can't be good. The GOP is unabashedly the party of white supremacy and hate. DeSantis, like his Republican peers, has no problem expressing his hatred of Black people. The governor has done everything in his power to erase Black history, rescind voting rights and even praised Jordan Neely's killer. DeSantis in the Oval office is downright dangerous for Black folks. With DeSantis and Trump as frontrunners for the Republican nomination, things keep going from bad to worse.