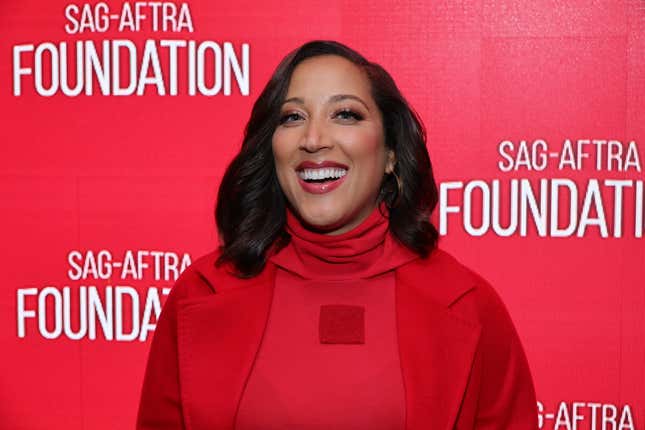 Robin Thede is a force in comedy. Before she created the Emmy-winning series A Black Lady Sketch Show, she wrote and starred on The Nightly Show with Larry Wilmore and her BET late night show The Rundown with Robin Thede. She's also made guest appearances on Insecure, Central Park, and Key & Peele. Long before all her success, Thede was able to see herself in the work of Whoopi Goldberg. While promoting A Black Lady Sketch Show Season 4 on a recent episode of The View, she thanked her role model for inspiring her career.

A Black Lady Sketch Show Is Our Black TV Pick of the Week
"I'm not gonna cry, but you were the first woman that showed me that Black women can play characters and be funny," Thede told Whoopi. "I talk about this all the time. I hope you don't think I'm a stalker, 'cause I talk about you constantly in interviews, but when I saw your Broadway show on television and you put that shirt on your head…This character, she talked about identity and how 'I wanna be white because that's what I'm supposed to be,' but then she came back to love herself. It was funny and it was real."
Robin got more emotional as she explained to the hosts, "I had never seen that, so thank you. I've been waiting my whole life to tell you thank you."
In Whoopi's 1985 one-woman show Direct From Broadway, one of the characters she plays is a little Black girl who wears a shirt on her head, and pretends it's her long blond hair. As the little girl describes the life she will have when she grows up, it's clear she's talking bout the life of a white person. As she works through her feelings with the audience, she eventually figures out it's OK to be Black, but decides to keep her shirt just in case. Through this bit, Goldberg discussed race with an honesty that audiences weren't used to. Not only did she introduce ideas that weren't talked about, she managed to keep it funny, which was the most important thing. You can check it out below starting at 28:00.
The EGOT winner was visibly moved by Thede's gratitude. For younger audiences who only know Whoopi as the host of The View, it's hard to explain what a groundbreaker she was earlier in her career. When Goldberg became popular in the '80s, white men were the only ones on TV doing sketch comedy with complex characters. She broke the glass ceiling and changed comedy forever, something she still doesn't get enough credit for. During the exchange, it was clear how much Thede's words affected the Sister Act star. Whoopi responded by praising the Emmy nominee for the extraordinary work Robin's doing.
"Kids now have you. And that is not just a small thing, that's a huge thing because you have invited an entire room full of Black women to write comedy," Goldberg said. "This is unheard of. There are not rooms full of white women writing comedy, so this is a huge thing. And that's what you did. So thank you."
It was such a beautiful moment of shared love and experience between two amazing Black women. Robin also made sure to offer Whoopi an open invitation to appear as a guest star on A Black Lady Sketch Show.
A Black Lady Sketch Show Season 4 premieres April 14 on HBO. The first three seasons, as well as Whoopi Goldberg: Direct from Broadway are available on HBO Max.