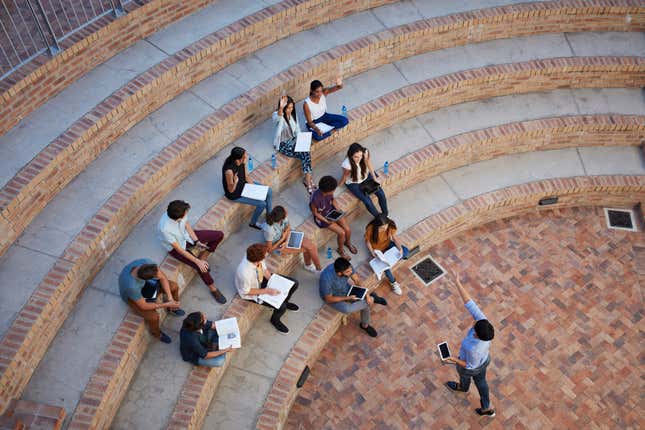 Republicans went forward with their plans to slash $32 million from the University of Wisconsin school system budget, leaving the state's top universities in dire economic straits. On Thursday, the GOP-led budget-writing committee voted on party lines to cut money from the school's budget in retaliation for their diversity programs, which they estimate cost $32 million. The decision to slash funding rather than increase it, which the university requested to keep up with inflation, means that the school system will be half a billion short of the estimated money they say they need to operate.
Comedian London Hughes Talks New Book, Parents Watching Her Very Sexual Comedy, & Beyoncé
The University of Wisconsin President Jay Rotham warned that the budget cut could mean the school system has to shut down some of its campuses and raise tuition for enrolled students. The cut "will diminish student access and affordability at our public universities. This is a missed opportunity and a significant setback to Wisconsin's efforts to win the war for talent," said in a statement to the Associated Press.
Despite raising massive concerns about the hit to higher education in the state of Wisconsin, Republicans pushed forward. Republican state Rep. Mark Born, who c0-chair, blamed the vote on University administrators. "They need to refocus their priorities on being partners on developing our workforce and the future of the state, and we're hopeful that they're going to be ready to do that as we move forward," Rep. Born, according to the AP.
None of this is happening in a vacuum. The Root has reported on the ongoing conservative effort to roll back diversity and integration programs in higher education:
The conservative-led Supreme Court is expected to gut affirmative action in higher education. The Associated Press tracked over 30 bills worked on in tandem with conservative groups like ALEC aimed at targeting college diversity and inclusion programs. And in Florida, Republican Governor Ron DeSantis signed legislation banning public colleges and universities from spending money on diversity, equity, and inclusion programs.
In Wisconsin, Republicans still have to contend with Democratic Governor Tony Evers, who has threatened to veto the budget if Republicans push forward with defunding the University of Wisconsin.