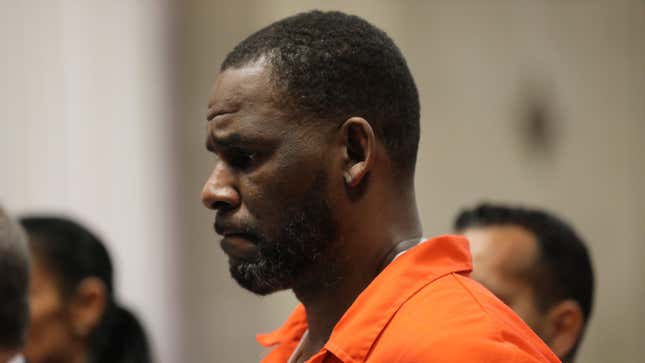 In the third and final iteration of the harrowing Surviving R. Kelly docuseries, viewers learned the diabolical lengths the the disgraced singer went to keep the horrifying details of his 1994 marriage and subsequent annulment to 15-year-old singer Aaliyah under wraps.
Smokey Robinson Wants His New Album To Cause You "Gasms"
According to Variety, Aaliyah's father was reportedly furious about the marriage and played a large part in it ending. As a result, Kelly—who was sentenced to 30 years in prison after being convicted on all nine counts of sex trafficking and racketeering—was able to secure a non-disclosure agreement with Aaliyah's family that stated they would not press charges against him after the marriage was annuled. In exchange for their silence, Kelly sold the rights to his first three albums to her family (as if that makes up for the amount of trauma their daughter endured, but I digress.)
If the talk of an NDA sounds familiar, then you may recall the fact that the minister who officiated the wedding between Kelly and the "Rock the Boat"singer, Nathan Edmond, was also asked to sign one back then as well but declined.
"I looked at it, I read it, then I kind of chuckled and said it wasn't worth the paper it was written on," he explained during day 10 of Kelly's New York federal trial in September of 2021. As a result, he instead gave the "Ignition" singer his word and vowed not to ever speak of the day and declined monetary compensation for his time.
As previously reported by The Root during that trial, Kelly's former tour manager Demetrius Smith testified that the entertainer illegally married Aaliyah because the 15-year-old was pregnant. Smith also admitted to bribing someone he knew at the welfare office with $500 in order to obtain a fake ID for the "One In a Million" singer so she and Kelly could get married.
The disturbing details of the relationship between Aaliyah and R. Kelly were some that were carefully covered in the Surviving R. Kelly docuseries, as the creative team involved were adamant about not wanting to exploit the "One In A Million" singer's suffering.
Said Executive Producer Jesse Daniels in a statement: "We have had a lot of conversations about how to tell Aaliyah's story every time because we really want to be respectful of her legacy. But what she went through, we can't turn our backs on."
The third part of Surviving R. Kelly, which centers around his 2021 trial, is available to stream now.