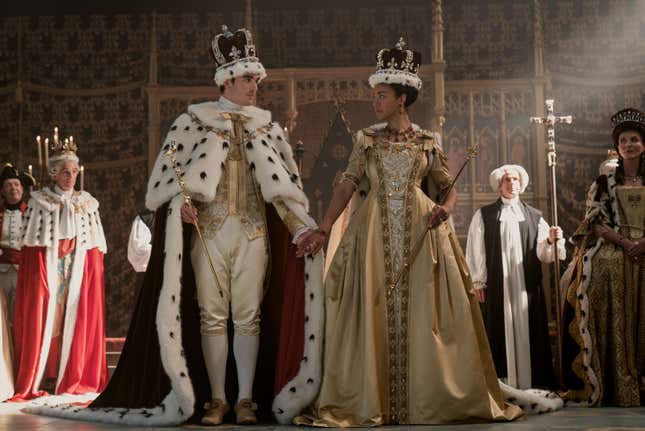 I love big, splashy period pieces. They're full of drama, romance, and hilarious shade disguised as polite conversation. However, for a long time, they haven't included a lot of meaningful Black representation. We're either not included, or we're the servants standing in the background. Producers usually cite "historical accuracy" as the reason for this treatment, as if we didn't exist back then. Thankfully, Shonda Rhimes changed a lot of minds with Bridgerton. Audiences were so busy fanning themselves over those scenes with Regé-Jean Page, they forgot to get all up in arms over the casting. In fact, the inclusivity of the series has made it one of Netflix's most popular shows and now the franchise is giving us even more to be excited about with the first trailer for the spinoff series, Queen Charlotte: A Bridgerton Story.

Premiering May 4, the drama tells the story of the romance between a young Queen Charlotte and King George. Bridgerton's Golda Rosheuvel returns as Queen Charlotte, alongside Adjoa Andoh as Lady Agatha Danbury and Ruth Gemmell as Lady Violet Bridgerton. In the trailer, we get to see the first meeting between India Amarteifio and Corey Mylchreest's young Charlotte and George. There's also plenty of that polite yet hilarious shade I mentioned, and yes, the signature Bridgerton sexiness is on full display.
Queen Charlotte: A Bridgerton Story Is Our TV Pick Of The Week
The clip makes it clear that this series is about Charlotte being a Black woman finding her way in a white space. Not only does she have to get the court to respect her as the queen, she has to get the people to love her as their leader.
"I think especially in the world that we are in now, to celebrate Black History is really really important, and through a female protagonist, female historical character, I think is really cool and beautiful and right on," Rosheuvel told Digital Spy. "It's an extraordinary story because as we've said, it's one of love which is very rare, I think."
We've been saying for years that our stories are more than pain and trauma. Black people are an important part of the fabric of this society, and it's crucial that our contributions are seen in entertainment. This is how most of the world engages with history, so if we're excluded, it's easy for them to pretend like we weren't there.
Queen Charlotte: A Bridgerton Story premieres May 4 on Netflix.