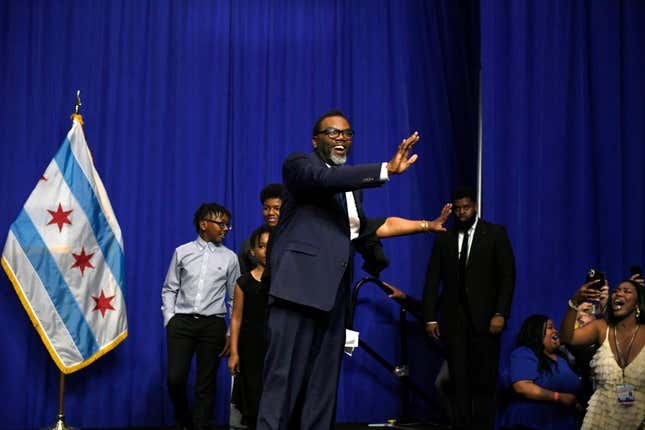 Brandon Johnson won a tight victory for the Democratic Party progressives being elected as Chicago's next mayor following the ousting of former mayor Lori Lightfoot, according to The Associated Press. Johnson's defeat of Paul Vallas was recorded to be the slimmest margin of victory in Chicago's political history.

Dr. King's March on the Ballot Boxes Is Under Threat Today
But who the hell is he? Johnson, 46, noted in his victory speech that he grew up in a poor family, he taught at a school in the city's most notorious public housing area, Cabrini Green and witnessing first-hand the gun violence of the West Side. These experiences led him to campaign for investing in disadvantaged neighborhoods and schools, which won him support from the Chicago Teachers Union. His opponent tried to discredit him based on his previous comments about defunding the police during the debate on how to address crime.
Johnson clarified that he supported law enforcement but aimed to focus funding on boosting the rank of detectives and investing in mental health response teams. On the other hand, Vallas, the tough-on-crime moderate Democrat, supported police funding and hiring of hundreds more officers to crack down on the city's gun violence crisis. Vallas was also backed by the police union and a few Republican politicians which got him the popular vote in February. Though, to all his supporter's surprise, Vallas conceded peacefully.
"It's time for all Chicagoans to put aside their differences and to walk and to work together supporting the daunting work ahead for our next mayor," Vallas said in defeat.
Read Johnson's victory speech from NBC News:
In his remarks Tuesday night, Johnson leaned heavily into new beginnings, acknowledging his win came on the same day of the 55th anniversary of Martin Luther King Jr.'s assassination, saying it served as symbolism for a new Chicago.

"Today, we did not just acknowledge the assassination of a dreamer," he said. "Today the dream is alive, so today we celebrate the revival and the resurrection of the city of Chicago."

"Let's take this bold progressive movement around these United States of America. Chicago, we can show the country, we can show the world what's possible when we stand on our values," he added. "We don't have to choose between toughness and compassion, between the care of our neighbors and keeping our people safe. If tonight is proof of anything, it is proof that those old false choices do not serve this city longer."
Former Mayor Lightfoot also issued a statement congratulation Johnson on his win.
"I congratulate Mayor-elect Brandon Johnson on his hard-fought runoff victory this evening. It is time for all of us as Chicagoans, regardless of our zip code or neighborhood, our race or ethnicity, the creator we worship, or who we love, to come together and recommit ourselves to uniting around our shared present and future," she wrote.
Johnson will be sworn into office on May 15 and told his crowd of supporters his first plan of action is addressing public safety by funding neighborhood schools and expanding affordable housing.