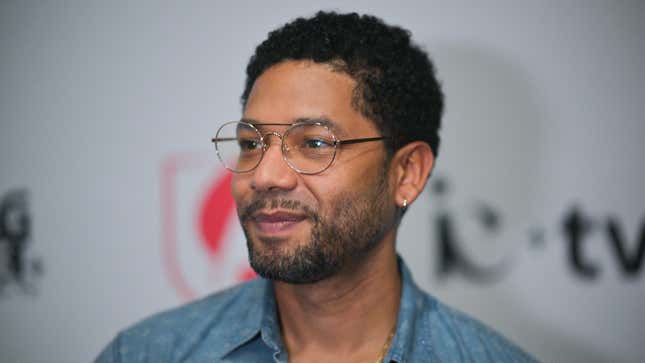 Just when I thought we'd seen or heard the last of the Curious Case of Jussie Smollett and the Fake Hate Crime, it looks as if it's about to rear its convoluted head again.
Small Town Horror Story: The Killing of Trayvon Martin
Per The Hollywood Reporter, Fox Nation is set to air an all-new, five-part docuseries on the matter, titled Jussie Smollett: Anatomy of a Hoax, beginning on Monday. According to Fox Nation Executive VP John Finley, the series will take "a deep dive into a scam that reverberated through the worlds of entertainment, pop culture and politics." It will also include interviews with two men at the center of it all: Abimbola and Olabinjo Osundairo, the brothers who testified during Smollett's trial that they were hired by the Empire star to carry out the staged attack. The news of this special comes just after lawyers representing Smollett filed an appeal last week in his case, calling for a whole new trial.
"In the present case, instances of prosecutorial misconduct were clear and egregious," a portion of the documents filed in the Cook County Circuit Court in Chicago read. "Mr. Smollett's constitutional rights to due process and to a fair trial were denied by prosecutorial misconduct including allegations that a defense witness was pressured to change his statement…and shifting the burden during closing arguments."
As previously reported by The Root, on March 10, 2022 Smollett was officially sentenced to 150 days in Cook County jail and 30 months of felony probation for staging a fake hate crime and disorderly conduct for lying to the police. He was also ordered to pay $120,106 in restitution to the city of Chicago and was fined $25,000. Nearly a week later, an Appellate Court judge granted the B-Boy Blues director's motion for a stay of sentence filed by Smollett's legal team. The decision was rationalized based on the fact that "Smollett likely already would have served his jail time sentence before his appeal had gotten very far."
At the time of his release, Smollett's lawyer Nenye Uche revealed that plans to appeal were forthcoming, saying in an Instagram video: "We still have a long battle ahead of us. Everyone should please, please, please pray. We need to fight, we need the support we got. Everyone helped in this fight, all the calls of support, the video, the sharing on social media, everyone contributed to this big win today. So right now, we won round two. We want to win the remaining round and we need, we need your help and support."