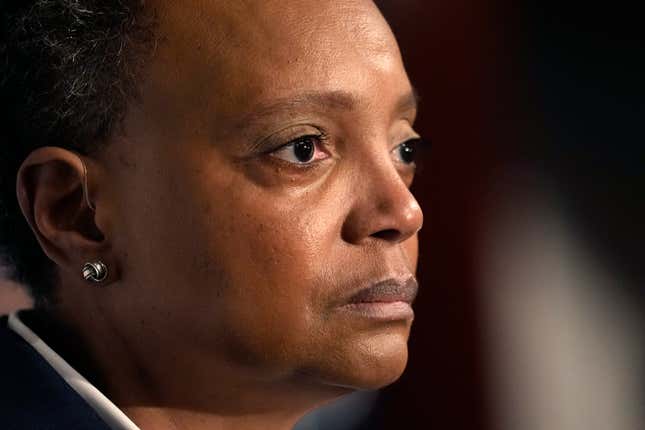 On Tuesday, Mayor Lori Lightfoot of Chicago lost her bid for a second term. It was an epic loss. She made history four years ago as the first Black woman and openly gay person to be elected mayor of the nation's third-largest city. Over the years, she has received intense criticism for her leadership—or lack thereof—which was under heavy scrutiny during the pandemic back in 2020.
Barack Obama Hosts Working: What We Do All Day, Our TV Pick This Week
Two candidates, Paul Vallas (a former public schools executive) and Brandon Johnson (a county board commissioner) have advanced to the April 4th runoff. Lightfoot is now the first sitting mayor in Chicago since 1989 to lose re-election. During her concession speech on Tuesday, Lightfoot stated that she "will be rooting and praying for our next mayor to deliver for the people of this city for years to come."
Here are 3 reasons why Lightfoot lost her chance for re-election.
Lightfoot was in over her head during the pandemic.
Back in 2020, the Ohio native secured the position of mayor by winning every single ward in Chicago, securing nearly 75% of the vote over Cook County Board President Toni Preckwinkle. However, less than a year into her term, Lightfoot was forced to deal with the onset of the COVID-19 pandemic. She was praised for immediately taking emergency measures and locking down the city.
However, she soon found herself at the center of controversy for going back and forth with the police union over vaccine mandates. During the 2020 George Floyd protests, Lightfoot's police department also battled protesters and she had downtown bridges raised to control the crowds.
The mayor went head to head with Chicago Teachers Union.
Early into her term, Lightfoot fought over a contract with the Chicago Teachers Union, which ultimately led to an 11-day teacher's strike. This happened a second time in the beginning of 2022, as the mayor and CTU sparred once again COVID safety protocols. This time, students couldn't attend school for five days. The final agreement meant that all surveillance testing required parents to definitively opt their children in and that schools would have to go remote for five days if 30% of teachers were absent for two consecutive days or 40% or students were quarantined.
Many Chicagoans believed that Lightfoot wasn't tough on crime.
Though Lightfoot promised a safer city under her watch, many believe that she did not uphold her end of the bargain. There were the 2020 police brutality protests, in which the police department—under Lightfoot's instruction—violently clashed with protesters. Most recently, there has been an increase in gun violence in Chicago as well as an increase in carjackings. Businesses also left the city, as Ken Griffin did with his hedge fund Citadel, citing violence as the reason for relocating his company's headquarters to Miami.