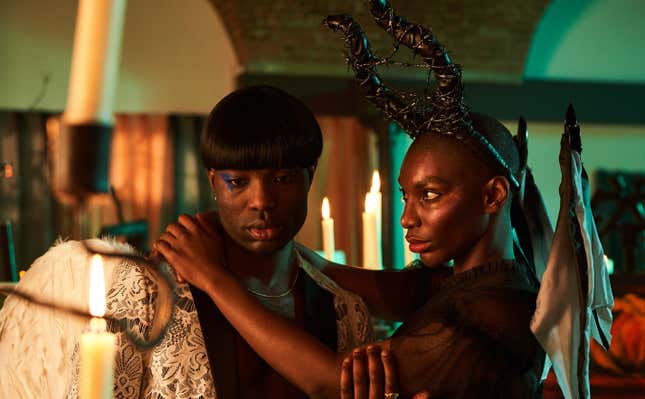 In June 2022, I May Destroy You stars Michaela Coel and Paapa Essiedu revealed that they experienced blatant racism while attending London's prestigious Guildhall School of Music and Drama. According to Deadline, Essiedu described an experience where a teacher used a racial slur during an improv exercise, yelling, "Hey you, n-word, what have you got behind you?" while they were playing a prisoner being searched by a guard. The Lazarus Project star explained that "the incident was so horrifying," he and classmate Coel, didn't know how to react.
Small Town Horror: The Story of the Largest African Burial Ground in the U.S.
We can understand their stunned response as we've all been in that situation where someone is casually racist in a class or workplace and you don't really know what you're supposed to do about it in the moment. Particularly in this case, if you're two young Black actors attending a well-known drama school, you can't make waves. Following the revelation, Guildhall issued a statement sending its "apologies unreservedly for the racism experienced by Paapa Essiedu, Michaela Coel and other alumni whilst they were studying at the school. The experiences he shares were appalling and unacceptable."
Well, now it seems Coel and Essiedu's experience wasn't an isolated incident. According to Deadline, Guildhall has a long-standing culture of extreme racism. Following the Black Lives Matter protests in 2020, the school "commissioned an independent review into discrimination experienced by students on its prestigious acting course." The results are pretty damning.
Completed in 2021, with the details recently published by Deadline, the 26-page report, which features interviews with more than 30 alumni and staff, describes the school as "unwelcoming" and states that "Black students' identities and personalities were 'suppressed' rather than celebrated as part of learning processes."
"Incidents of personal racism were alleged to have been perpetrated by a small number of named individuals who had been in leadership positions within the acting programme for many years. Their behaviours appeared to have been enabled and empowered through structural racism in the school's systems," the report said.
The report even discusses the time a white student allegedly spit in a Black student's face during an acting exercise. "The tutor deemed that it was dramatically justified," though the Black student obviously didn't think so.
If you're a Black person who attended a predominatly white institution, none of this is surprising to you. But that doesn't make it any less frustrating and rage inducing. Guildhall's impressive alumni list includes Ewan McGregor (Star Wars); Dominic West (The Wire); Lennie James (Fear the Walking Dead) and James Bond himself, Daniel Craig. No aspiring actor is going to go against a drama school with this kind of award-winning roster behind it. And that goes triple for students of color who know they're already starting at a disadvantage.
Guildhall responded to the findings, saying in part, "The recommendations of this report for the drama department have since been implemented, and in addition, its school-wide recommendations have been fed into the work of Guildhall School's Equity, Diversity and Inclusion Committee."
"We understand that this work is long-term and requires sustained commitment to build a culture that is inclusive and equitable," the school added.
Here's the thing: If the school has really learned from its mistakes and is actively trying to improve the drama program, that's awesome. However, we won't really know until we get a follow-up report from alumni in the next five to 10 years.
And for those of you who don't understand the purpose of diversity, equity and inclusion (DEI) programs, it's to stop shit like this from happening. Of course, it only works if you actually follow their examples and recommendations.