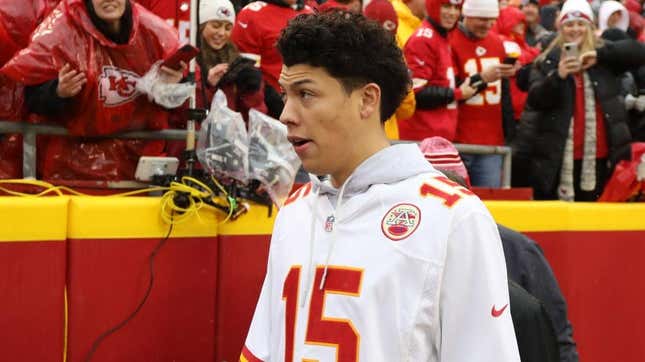 While Patrick Mahomes is busy winning Super Bowls, MVPs and everything in between, his younger brother is busy causing trouble.
According to a report from KCTV5, the 22-year-old Jackson was arrested on Wednesday because of an incident that was caught on camera three months ago in February. He's being charged with three counts of aggravated sexual battery and one count of misdemeanor battery. His bond was set at $100,000.
In March, the popular TikToker was accused of the crime by the owner of Aspens Restaurant and Lounge in Overland Park, Kan. The 40-year-old owner claimed that the controversial brother of Patrick Mahomes forcibly tried to kiss her multiple times without her consent. She also claimed that he shoved a member of her staff the same night. Although Jackson's attorney has denied that his client did anything wrong, video of the alleged incident shows otherwise.
Although this is a serious issue Jackson has found himself in, this isn't the first time he's been caught up in controversy.
In September 2021, a video surfaced of Jackson dumping water on Baltimore Ravens' fans after the Chiefs lost to them in a thrilling Sunday Night Football game. Later that year, he also had a public disagreement with a local Kansas City Bar for not letting him and his friends enter. In response, they ethered him, calling him out for attempting to ignore boundaries they tried to set because of COVID-19. They also said that just because he has a sense of entitlement does not mean he is above following the rules.
I don't want to make any judgments, but it seems that the restaurant's statement could possibly have some truth to it. Anyone who forcibly kisses anyone without their permission must feel like they have the right to do whatever they want to someone else's body when they don't. If Jackson doesn't want to find himself in a situation like this again, he better learn that.