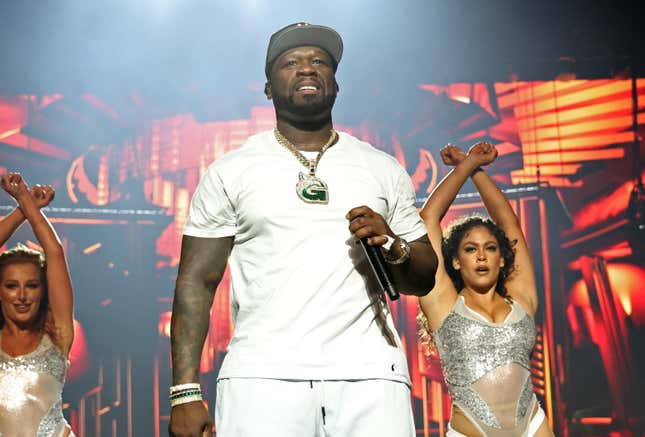 50 Cent likes to do things big. He saw Cardi B get attention for throwing a mic at a show and said "Hold my beer." The Get Rich or Die Tryin' rapper doubled the "Wap" artist's effort by throwing two mics during his concert at Crypto.com Arena in Los Angeles on Wednesday.

Tackling A Black Maternal Health Crisis & Embracing Reproductive Justice | The Root Institute
According to TMZ, after becoming frustrated with his malfunctioning microphones, the "Candy Shop" rapper threw one into the restricted production area where it allegedly struck Power 106 host Bryhana Monegain.
Photos show that she has a deep cut on her forehead. TMZ also reports that Monegain filed charges against 50 Cent, real name Curtis Jackson, and he is now a suspect in a felony criminal battery report. The alleged victim reportedly told the police "50 looked directly at her before throwing the mic." However, other sources told the outlet that the "In Da Club" artist threw the mic in the restricted area and "wasn't targeting" her. The incident was captured on fan video where you can see the Power producer throw the mic.
Jackson's attorney Scott Leemon issued a statement to TMZ about the situation.
"Let's be very clear, as I told LAPD this afternoon, my client Curtis would never intentionally strike anyone with a microphone," he said. "Anyone saying something different doesn't have all the facts and is misinformed."
The incident comes on the heels of Cardi B throwing a microphone at a concert goer who splashed a drink on her during a July 29 performance at Drai's Nightclub in Las Vegas. In that instance, a report was made and the "Up" rapper also became a battery suspect. However, the mic came through everything OK, as it still works and was put up for auction on Ebay. There's no word yet on the condition of 50 Cent's mics.
We all know that concerts often cause heightened emotions as the music and environment hits everyone differently. However, what all of this nonsense teaches us is that both artists and fans need to calm the hell down, enjoy the show and, for the love of God, stop throwing shit!