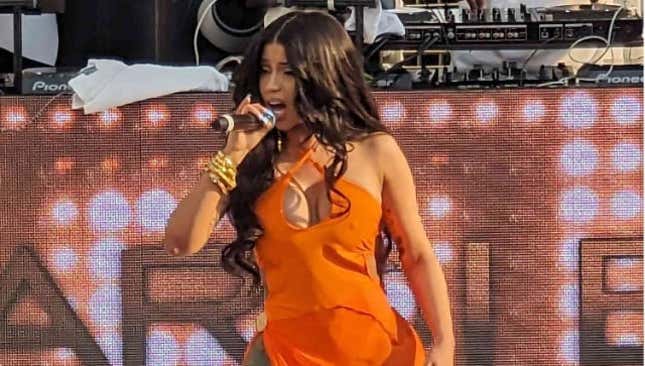 Updated August 1 at 11:48 a.m E.T:

TMZ  reports that a woman in the crowd during Cardi B's July 29th performance at Drai's Nightclub in Las Vegas has gone to the police about the mic-throwing incident. In the viral clip that has circulated online since Saturday, the rapper threw her microphone at an audience member who tossed water on Cardi while she was performing.
Bill Russell: Legend On Netflix Is Our TV Pick This Week
However, the person who reported the incident to Las Vegas Metro PD a day after it happened claims she was standing next to the drink thrower and the mic hit her as well. Some video clips show the microphone hitting someone else as it ricocheted off of the fan who threw water. TMZ also stated that because of the report filed, Cardi is now a suspect in a battery.
In the video, Cardi walks onstage to greet the crowd when someone in the audience throws a drink at her. The rapper is visibly stunned and quickly retaliates by throwing her microphone at the disrespectful fan.
After the mic is thrown, security guards quickly bombarded the stage. While some may be shocked over Cardi's reaction, the former Love and Hip Hop: New York star has a history of defending herself when fans get out of pocket. This latest instance is actually the definition of what it means to f*ck around and find out.
Ultimately, in typical Cardi fashion, the rapper playfully continued her Vegas performance after the shocking incident.
The incident was only the latest in a spate of incidents between the public and performers on-stage. Sometimes it's as playful as women throwing bras at Drake on his latest tour. Other times, it's as horrifying as Bebe Rexha receiving stitches above her eye because an onlooker threw a phone that hit the singer square in the face.
Kid Cudi and Steve Lacy have also had objects pelted at them during their show. Just last week, Monica jumped off the stage during her performance after apparently seeing someone assault a woman in the crowd at her Detroit show. That clip also went viral on social media.
In an interview with CNN, Monica said that concerts have transformed into "a dangerous space and place" and that she wants it to change. Folks on social media applauded Cardi's response and insisted that the fan had it coming.