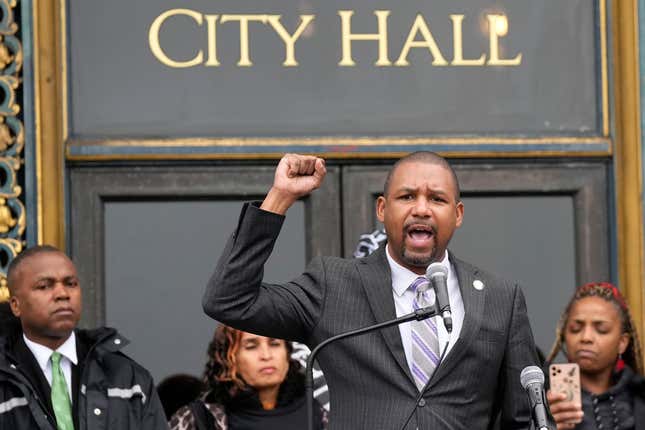 California is spearheading the initiative to pay back Black residents money to compensate for the generational and systemic impact of slavery. With billions of dollars being considered in payouts, some critics within the Black community have shown resistance to putting checks directly in our hands.

This Juneteenth We Revisit The Anderson .Paak BLM Track "Lockdown"
California's reparations task force is being pressured to consider a compensation estimate of over $800 billion - addressing the concerns of housing discrimination, police brutality from Nixon's war on drugs, per AP News. San Francisco's board recently recommended $5 million payouts to every city resident in addition to increased income and debt forgiveness.
Here's why some people disagree this is the solution to slavery's impact on generational wealth.
Critics Consider The Cons
Rev. Amos Brown, President of San Francisco's NAACP chapter, casted doubt on the likelihood legislators would even approve the city's proposition of $5 million in payouts. He also disagreed with the city's plan to put the money directly in the hands of the people without a plan of payout installments, per NBC Bay Area. The SF NAACP released a statement suggesting the funds be allocated toward education, healthcare and cultural centers to invest into the city's Black community instead.

Prioritizing Financial Literacy
Black people make up just over 13 percent of the US population but have risen as the second-largest consumer group in the country, according to Forbes Magazine. McKinsey & Company partner Shelley Stewart estimated Black consumers spend around $900 billion a year and predicts that number to grow to $1.7 trillion by 2030.
This is why Walter Davis, former CertusBank executive, told The Root while he believes reparations can help close the racial wealth gap, it may not be effective if the recipients haven't been exposed to wealth management strategies.
"People spend a lot of money and normally, it's a lot of people who don't understand that saving and investment is important," Davis said. "If someone's going to get a big check, a lottery check, a reparations check, there needs to be some type of effort to make sure that there is not just an individual but a family wealth management strategy put in place made available for them."
Research Supports Reparations
Critiques like these come from the Westernized way of thinking, according to some experts, that is hesitant to give out money without knowing where it's going. It's the same reason , they say, why people may opt to buy a homeless person a meal instead of give them a few dollars, assuming they may spend it on drugs or whatever else. In contrast, research has proven that putting funds directly in someone's hand is more effective than it is a waste, particularly, among impoverished communities outside the country.
Grants Don't Go to Waste
For the most part, cash grants allow people the freedom to decide how to spend their money and on what they need most. According to a 2019 review of studied by the World Bank, there was no evidence to suggest people in low income countries blow their payouts all on "temptation goods." Instead, the rate of their consumption or cigarettes and alcohol decreased. Their review also found cash grant programs had long-term impacts on education in Latin American countries, helping children attain higher grades and graduate to higher levels of schooling.
On another level, payouts helped poor households from seeking money in short-term decisions such as selling various possessions or transactional sex, according to an article by Dr. Kate Orkin from the University of Oxford's Blavatnik School of Government. In some households, studies found cash grants encouraged the youth to seek employment because they had a means to pay for transportation.
There's More to Reparations Than a Check
The headlines about millions or billions of dollars in reparations has gotten everyone in a tizzy. According to AP, San Francisco has to deliberate on over 100 recommendations for city reparations besides the $5 million. These include paying incarcerated individuals wages for their labor, free wellness centers, planting trees, ridding cash bail and adopting Black studies into schools.
Another hot topic, considering the successful deed transfer of the Bruce family Beach, is land reclamation. Daniel Landry, policy subcommittee lead for San Fransisco's reparations board, is pushing for land to be returned to the Black Californians it was stolen from, per The Washington Free Beacon.

It will take a long time for California to settle on a definite plan. Then, it will still have to go through legislation. President Biden has also been pressured to sign an executive order to establish a federal commission to recommend proposals for reparations. The conversation will continue about how much Black people deserve and what the cost of slavery's damage should be. But in between the debate, it's a milestone that these conversations are even being put to action.