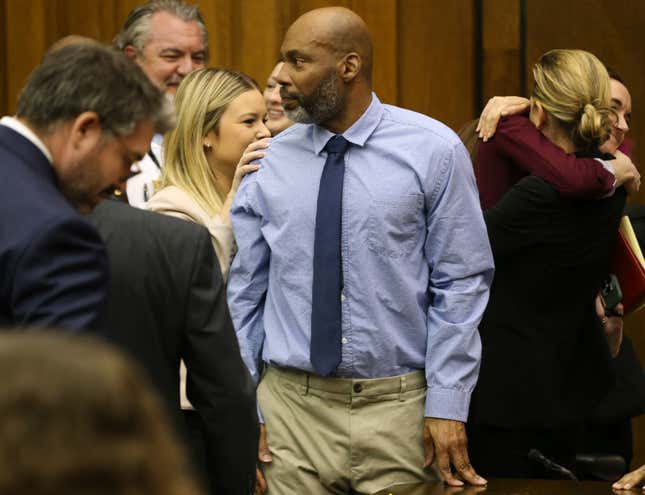 A Missouri judge recently overturned the conviction of Lamar Johnson, a man falsely accused of a murder 28 years ago. After spending three decades in prison, Johnson finally has his freedom but was offered no financial compensation for the time he lost and the new life he now has to build, per CBS4 News.

Kevin Johnson Executed By State of Missouri After Supreme Court Denies Appeal
In October 1994, Johnson was convicted in the murder of Marcus Boyd, a man shot to death by two masked men, per AP's report. A key witness, James Elking, said he was initially coerced by investigators to place Johnson at the scene of the crime, but later recanted his statement. The two suspects, James Howard and Phil Campbell, sent affidavits—while in prison for other offenses— confessing to the murder years later. Johnson also had an alibi: his girlfriend, who testified he wasn't at the scene of the crime.
The conflicting credibility of the statements made it doubtful that Johnson pulled the trigger. In 2019, St. Louis Circuit Attorney Kimberly Gardner sought a new hearing based on the new evidence but the state Supreme Court ruled she "lacked authority" to seek a new trial.
Her efforts resulted in a 2021 law allowing prosecutors to examine wrongful convictions upon new evidence, per St. Louis Public Radio. Johnson's case was given another chance.
However, Missouri still lacked legislation to give financial compensation to exonerated individuals. Why? Something as simple as the absence of DNA testing.
Read more from KMOV News:
Many states offer compensation for people whose criminal convictions are vacated. In Missouri, it's very limited and Lamar Johnson will not qualify because the case did not hinge on DNA.

"In Missouri, that ability is really just non-existent. So Missouri does not provide compensation for individuals who are wrongfully convicted unless they're exonerated through a very specific procedure in which that person is requesting DNA testing and that DNA testing leads to evidence that proves their innocence," explained Tricia Rojo Bushnell with the Midwest Innocence Project.

The Midwest Innocence Project has launched a GoFundMe to help Johnson after he was freed. It has already raised thousands of dollars.
In some cases, exonerees come back and sue the city. Often, however, those who don't have the ability to hire a lawyer find themselves displaced upon their transition back into the world. The report says if Johnson's case was handled in Kansas, a state that provides compensation, he would have been owed $1.82 million.
Millionaire or not, Johnson says he's going to spend his new life fighting for others who were put in the same position.
"I hope I can be an inspiration and that they will continue to fight — truth finds a way. I think there's a purpose in pain. To some degree, I have an obligation to try to help others and help them get through what they're going through," he said to St. Louis Public Radio.