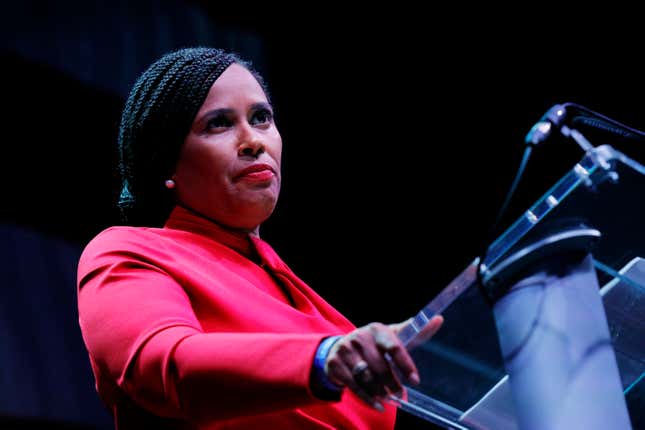 Let's be real here when people think about Massachusetts and specifically the Boston area; Black empowerment isn't exactly top of mind. But on Friday, Massachusetts Governor Maura Healey announced she was creating an Advisory Council on Black Empowerment.
Fighting "Lie-abetes": How To Spot And Combat Disinformation and Conspiracies In Politics | The 411: Part 2
The council, comprised of 30 Black leaders from across the state, will advise Healey on various issues impacting Black Americans, including education, health care, and workforce development.
The advisory council will be co-chaired by NAACP Boston President Tanisha Sullivan and Vice-President of Equitable Business Development for the Massachusetts Housing Finance Agency, Anthony Richards.
"Massachusetts' Black residents make tremendous contributions to our state, but far too often they face systemic barriers that hold them back from opportunity," Healey said in a statement Friday. "Our administration is committed to bringing people together and centering equity in all that we do, and that requires ensuring that those who are most impacted by our policy have a seat at the decision-making table."
How has Massachusetts been addressing centuries of inequality?
The state has a lot of ground to make up in terms of equality. In Boston, the median net worth for Black households in 2015 was $8. Meanwhile the median net worth for white households was $247,500.
But in recent years, they've been putting in more work.
Boston established a Reparations Task Force to study how slavery and discrimination have impacted Black Bostonians. And last year, the Boston city council passed a resolution apologizing for Boston's role in the slave trade.
These moves, including establishing the advisory council, obviously won't erase the state's inequality problem overnight. The state didn't send a Black woman to Congress until 2018.
But, as other states try to do everything they can to stop people from talking about racial inequality, it's worth pointing out states that are at least nominally trying to move forward.