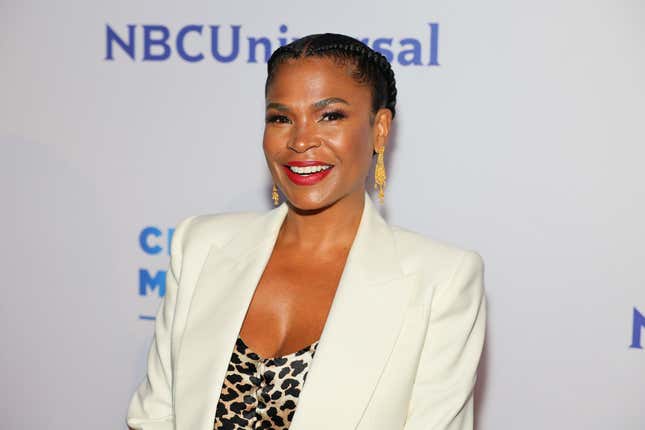 You'd be hard-pressed to find an actress more essential to Black culture in the '90s and 2000s than Nia Long. From Boyz in the Hood, to The Fresh Prince of Bel-Air, to The Best Man franchise, she's been part of our lives for more than 30 years. As you can imagine, someone with that kind of career longevity has a lot of stories to tell. Now, Nia is ready to spill them all in her upcoming memoir.

"I am thrilled to have found a home for my memoir at Gallery and 13a," she told Essence. "My steps to finding divine purpose have been thoughtful and intentional. For better or worse, you will find truth and transparency in the storytelling, sprinkled with 90s nostalgia."
The project will focus on her "career, motherhood, and activism, along with untold stories and personal reflections." In January, while promoting the film missing, and the Peacock limited series The Best Man: The Final Chapters, she revealed that she didn't get cast in 2000s Charlie's Angels because producers thought she "looked too sophisticated and too old next to Drew Barrymore." I imagine that's just the tip of the iceberg when it comes to disrespectful notes from producers. While she added that it was probably for the best that she didn't get that role, Long probably has plenty of fascinating stories about the parts that got away. Plus, we need to hear all the tales from the set of Boyz in the Hood; Friday; and Love Jones.
Of course, it's completely up to Nia on whether she will talk about any of the details surrounding her very public breakup with former fiance Ime Udoka, but it's hard to believe that there won't be at least one chapter about how that situation affected her family. She's previously taken the Boston Celtics to task for how they didn't protect her kids from their terrible handling of Udoka's suspension and eventual firing.
Honestly, I don't really need her to get into all her personal business, because I think her revelations about being a Black woman working in Hollywood for the past 30 years will be captivating. However, I'm sure plenty of people out there just want messy tea spilled. Nia Long has always handled herself in a very classy, dignified way, so I expect her memoir to be the same.