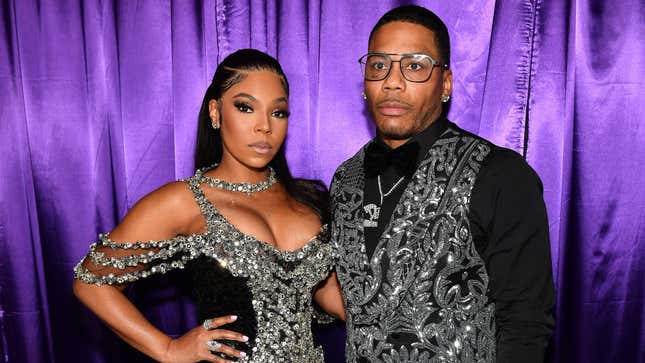 Ashanti deserves a win, especially after the embarrassment she must've felt after Irv Gotti exposed inappropriate, and weird details about their relationship a year ago during his BET docuseries, The Murder Inc. Story.
T-Boz & Chilli Tell Their Story For The First Time In TLC Forever, Our TV Pick This Week
But over the weekend, fans of Ashanti could not get enough of the R&B star, who stepped out with her. It was her ex-boyfriend and rapper, Nelly. The two attended the 3rd annual birthday bash for Quality Control Records founder Pierre "p" Thomas, held at the Fox Theater in Atlanta, Ga.
The reunited couple was seen wearing matching outfits. Just look at them!
This is not only cute to see because Ashanti and Nelly were once a cute couple during the 2000s and dated until 2013, but it feels good because Ashanti had to deal with a lot this past year.
As I mentioned earlier, the "Foolish" singer was the subject of multiple attacks from her former "boyfriend" and label exec, Irv Gotti.
During an August appearance on Drink Champs, he would not shut up about Ashanti and he even expressed how he felt once he saw Ashanti and Nelly together on TV.
On an episode of The Murder Inc. Story, Gotti explained how his romantic relationship with the R&B singer got started, specifically detailing a time when he took Ashanti home after a late-night studio session. Mind you, this is all while he was still married but separated from his then-wife Debbie Lorenzo.
During the documentary that was supposed to detail the rise and fall of Murder Inc. Records, Gotti was spending all his time reminiscing about Ashanti.
In October, Ashanti was a guest on Angie Martinez's podcast, IRL, where she was extremely open about her relationship with Gotti, and explained that she felt pressured to be with him, saying that it felt like "manipulation."
Black Twitter's reaction to Ashanti and Nelly being reunited
Now that Irv Gotti is officially in the past, fans can now focus on how great Ashanti and Nelly look as a couple.
As expected, Black Twitter was fawning over the two artists and had nothing but positive things to say about their relationship.
All I can say is, I hope Nelly doesn't ruin his second chance with Ashanti because lord knows that ALL of Black Twitter will be there to pounce on him.