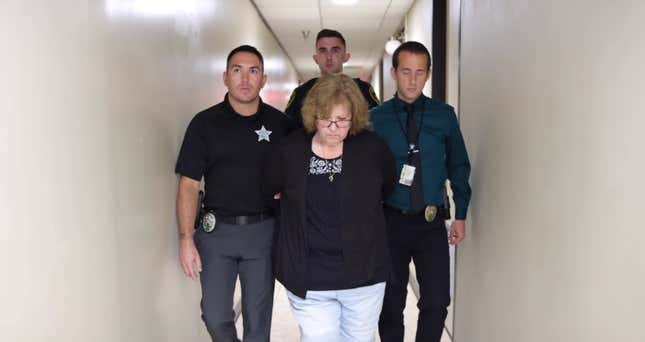 The white woman arrested and charged in the fatal shooting of a Black woman allegedly has a history of erratic behavior toward children, locals told NBC News. The shooting happened moments after the woman was accused of yelling at two children and throwing items at them.
Comedian London Hughes Talks New Book, Parents Watching Her Very Sexual Comedy, & Beyoncé
Susan Lorincz was arrested in the shooting and killing of Ajike "AJ" Owens, mother of four, in Ocala, Fla. last weekend. Authorities say Owens approached Lorincz's door after her children told her the woman yelled racial slurs at them and threw items at them, injuring them. However, when Owens approached the woman's home, Lorincz fired a fatal bullet from behind her front door.
The shooting was the tragic end to a years-long feud between the two, the report says. However, neighbors say Lorincz had a pattern of going complete-Karen-crazy when kids were around.
Read more from NBC News:
Phyllis Wills, 33, has lived in the neighborhood for about 15 years. She knew Owens and knew of Lorincz "because she used to come outside all the time and harass our kids," she said. "Everybody in this neighborhood has feuded with this lady over our children."

Sharna Mozell, 36, who has lived in the neighborhood about 12 years, said Lorincz "was a problem with the kids." Lorincz "used to come outside, and she used to record them constantly. And she'll just flick them off while she's recording the kids, calling them out their names," said Mozell, the mother of four children ranging in age from 10 to 19.

"'Mama, Karen called the police on us today,'" Mozell said her daughter would tell her.
From leaning on her car horn, waving guns in the air and speeding around the children in her truck, Lorincz is accused of doing everything possible to torment little kids from being little kids. Though, the scene of Owens' shooting sent a shockwave from house to house.
Ms. Wills said Owen's eldest son banged on her door hysterically begging for help. "The lady shot my mom!'" she recalled him yelling.
Eyewitness Franklyn Colon performed CPR on Owens as they waited for the paramedics, noticing a bullet wound to her upper chest with no exit, per the report. He recalled the neighbors and their children standing outside crying. Two of Owens' children witnessed their mother get shot.
Ironically, Colon told NBC Owens warned him about Lorincz when he first moved to the area two years ago. It seems he could've asked anybody on the block to spill the tea on the neighborhood Karen.