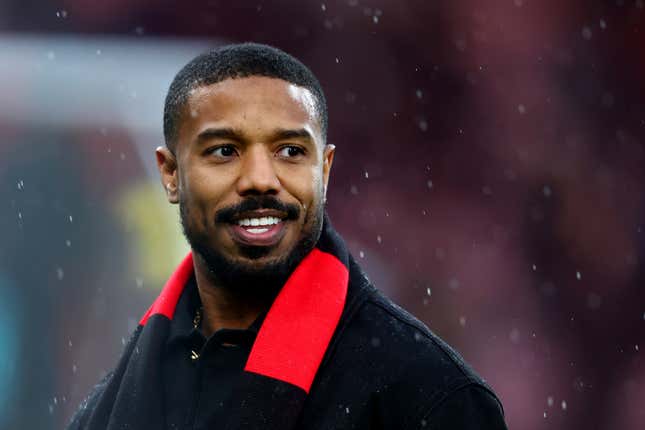 As he embarks on the promotional tour for his upcoming film Creed III, actor/director Michael B. Jordan has been unexpectedly open about his private life, specifically his recent breakup with Lori Harvey. In addition to being the main source of humor in his Saturday Night Live monologue, he also discussed the topic in more serious terms with Gayle King on CBS Mornings. Turns out the movie star got through his heartbreak the same way as the rest of us.

"I think for me it's just, I was lucky enough to have a lot of work," the Black Panther star told King. "I'm a firm believer in 'what's for you is for you,' and coming out of that situation—not to give it, you know, any energy and kind of move from that—is, you know, it was an experience for me to grow and learn."
The busy actor will reportedly return to the role of John Clark in Rainbow Six, the follow up to 2021's Without Remorse. He also has several interesting projects in development, including a new Thomas Crown Affair and Methuselah, directed by Danny Boyle (Slumdog Millionaire).
"I'm in my light right now. This is my Jordan year, I mean that. This is my year," he said. "There's so much going on, so many blessings, so many great things. This is at a point in my career where there's not a lot of people telling me 'no' and everything's wide open."
During the Jan. 28 episode, which was also his SNL hosting debut, Jordan joked about being on the dating app Raya, then several of the show's female cast members came out to shoot their shot with the newly single actor. This included Ego Nwodim embodying the thoughts of many Black women, and just showing up in a wedding dress.
Personally, if Michael B. Jordan wants to take some time and focus on work, I'm good with it. That means we all win, because we get a new lineup of amazing projects. People's 2020 Sexiest Man Alive is at that point in his career where he's branching out into more complex, unique characters and stories, something I am 100 percent invested in.