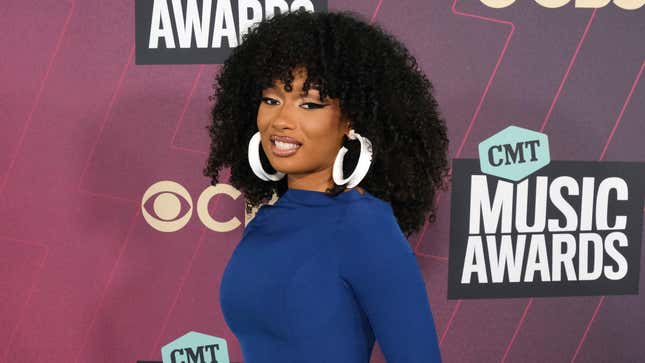 Things between Megan Thee Stallion and her old label 1501 Certified Entertainment may have been peachy keen for the last few weeks, but it looks like things may be back to being contentious thanks to a new motion filed on Thursday.
Your Favorites Share Their Ideal Verzuz Match Ups at The BET Awards
According to TMZ, the "Anxiety" rapper filed new documents against 1501's CEO Carl Crawford, J. Prince, and Gee Richardson that allege that they've been the only ones getting paid as of late. The paperwork also claims that Crawford has been "lining his pockets" with money from her hit songs while she gets nothing and that the primary account for the them is getting low and only has $10,000 left in it despite having deposits in the millions prior to.
This new motion comes just after Crawford apologized to the "Girls In the Hood" rapper back in February for all the foolery they've been embroiled in, citing the fact that their issues were exacerbated by social media but would now cease moving forward.
"Me and Megan, we haven't talked since 2019," he explained, as previously reported by The Root. "We've been going through, I guess, what you guys see online and it's unfortunate because I never wanted to have a situation where I was, you know, going back and forth with her on the internet."
He later continued: "I never had any problems with Megan Thee Stallion. It's just the social media stuff, it turned really, really sour. You take this social media part out of it, we don't have a problem. I'm done with that. You won't hear me mention Megan Thee Stallion name in the media unless I'm doing something like this."