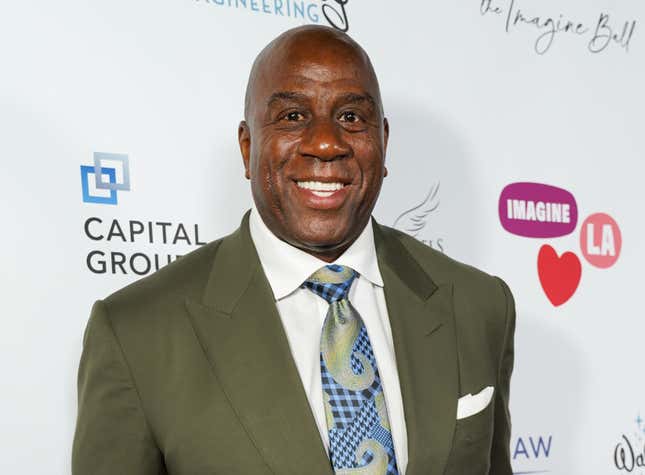 NBA legend Magic Johnson is known for having the greatest second chapter in sports. He went from leading the Los Angeles Lakers down the court to becoming one of the city's most successful businessmen. In recent years, he's focused his efforts on sports ownership. Magic currently holds stakes in MLB's Los Angeles Dodgers, WNBA's Los Angeles Sparks and MLS' Los Angeles FC. Now it appears he's adding the NFL's Washington Commanders to the list. According to ESPN's Adam Schefter, the team's current owners, Dan and Tanya Snyder, "have reached a preliminary nonexclusive agreement to sell the NFL franchise to a group led by Josh Harris." The group, which also includes Magic, is reportedly buying the Commanders for $6.05 billion.

Beyoncé Becomes The Queen of The Grammys With Record Wins
Like any deal of this magnitude, nothing is done until all the contracts are signed and the NFL approves it, so there are no guarantees yet. ESPN is also reporting that "A group led by Canadian billionaire Steve Apostolopoulos is still involved in the sales process."
This is great news for both Magic and the NFL. The NBA hall of famer remains one of the most popular sports figures in the world. It will help everyone involved if he's one of the faces of the team. And let's be honest, Washington isn't really known for being winners. Having a five-time champion directly involved will definitely help change the culture of the team. Obviously, basketball is Johnson's area of expertise, but he also knows how to sell fans on his other teams. He goes hard for the Dodgers. He wears jerseys to games, talks up the team on sports TV and makes them feel like must-see entertainment. He also sits courtside for nearly every Sparks home game and also helps players with tips and advice. I'm sure Harris—who also owns the NBA's Philadelphia 76ers—is probably hoping that Magic will have the same energy for the Commanders.
Washington has been a never ending source of scandal and disappointment for the sport, its fans and DC. This is one of those rare times where the NFL and fans are in agreement on a major decision. It's no secret that the league is in desperate need of more people of color in ownership and executive positions. Having an experienced businessman and team owner like Magic in the rooms where decisions are made can only help find solutions to some of these long-standing issues of race and class.