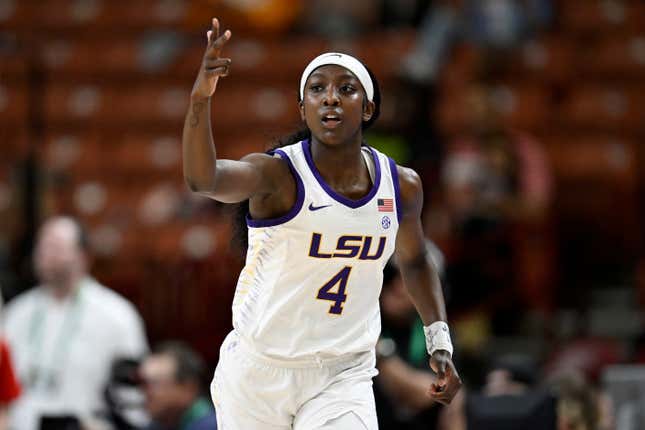 Basketball player/rapper Flau'jae Johnson is having a pretty awesome April. First, her LSU basketball team wins the national championship, and now she's set to work with prolific producer DJ Khaled.
Mixtape Docu-Film & The Chi Season 6 Are Our TV Picks This Week
On Tuesday, the freshman guard posted photos of herself on Instagram with the "God Did" artist along with the caption, "Wow, God Doing His Big One. Flaujae X @djkhaled coming soon." She also used Khaled's song "Grateful" to express her feelings, posting, "Even though my plate full, I can't complain, it's everything that I prayed for."
In addition to her skills on the basketball court, Flau'jae has been receiving a lot of attention for her rapping lately. While appearing on ESPN2's Final Four broadcast with WNBA greats Sue Bird and Diana Taurasi, superstar Lil Wayne said, "Actually, me and Flau'jae, we've spoken, but we about to connect musically soon. That's shoutout to Miss Kim [Mulkey] too. Because Kim told me, 'You must do something with my girl, Flau'jae.' I was like, 'Say less.'"
Columbia Records executive vice president Bu Thiam is also interested in working with the 19-year-old artist, telling TMZ, "She hard. Tell her, 'You need to holla at me.' She need to get at me."
In case you're not a basketball fan, you may remember her as the 14-year-old rapper who got a Golden Buzzer during Season 13 of America's Got Talent. You might also remember her from Jermaine Dupri's Lifetime series The Rap Game. So if she was that good then, you can imagine how good she is now.
Johnson was a crucial part of LSU's championship run, notching 10 points, seven rebounds and four assists in the title game against Iowa. She was also named the SEC Freshman of the Year.
It's so inspiring to see this young Black woman make big moves in her career, and do it her own way. Her lyrics are very personal but also speak to the struggles many young people are going through. Between basketball and music, Flau'jae has limitless potential, and I cannot wait to see how she navigates all the possibilities. I'm a big fan of people who bet on themselves and win and wish her all the best.