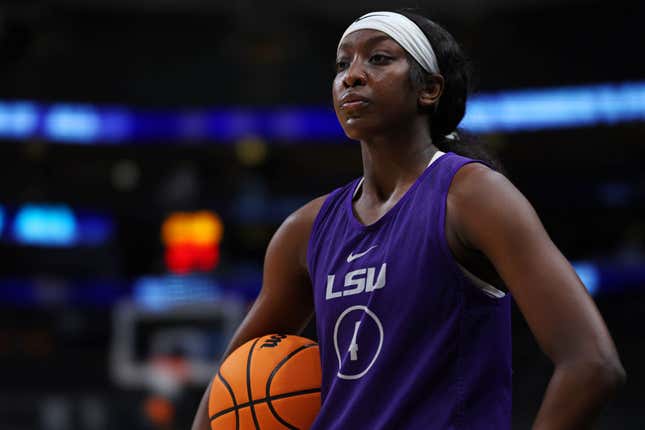 It's been one hell of a year for Angel Reese, Flau'jae Johnson and the women's basketball team at LSU. Johnson, in particular, has been getting a lot of love off the court, since she's not only one of the star players for the best team in the country but also a talented rapper with plans to collaborate with hip-hop veterans such as Lil Wayne and DJ Khaled.
But earlier this week, her talent as an MC caught up to her. The star guard, who raps under "Flau'jae," released a remix of Latto's recently released single, "Put It On Da Floor."
While her skill as a rapper was on full display, one of the lines caught backlash for making reference to the 9/11 terrorist attack on the World Trade Center. In the song, she could be heard rapping, "In this 911, blowing smoke just like them towers," which references a model of a Porsche car and the attack on the New York towers.
LSU quickly caught wind of the controversy and released a statement to FOX News that read, "We spoke with Flau'jae this evening, and while she never intended to offend or upset anyone with her lyrics, she expressed sincere remorse for any possibility of a misunderstanding and immediately took the video down. We will learn and grow from this experience together."
Welcome to the hip-hop world Flau'Jae. Where every word and bar you rap will be analyzed. From this moment on, she can no longer just rap about anything she wants to, her content and lyrics will be watched carefully. I'm sure she'll learn from it and move on.
I doubt this latest controversy will deter her from pursuing a career in music. She's been taking it seriously since she was a young teenager and tried out for America's Got Talent.
She's also currently involved in a partnership with Jay-Z's Roc Nation, where she says, "I own my masters and stuff like that, and they just give me the resources. I got creative control."
With the backing of Roc Nation, I'm sure Johnson can take her music career as far as she wants too because she has the talent to do so.