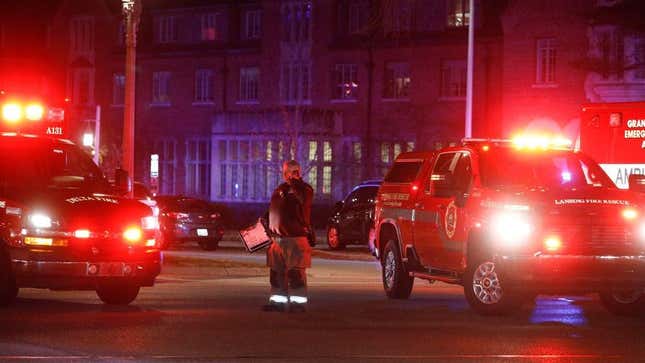 Local police have identified 43-year-old Anthony Dwayne McRae as the suspect responsible for killing three students and injuring five others Monday in a mass shooting on Michigan State University's campus.

Dr. King's March on the Ballot Boxes Is Under Threat Today
During a press conference, Intermin Deputy Police Chiefs Chris Rozman revealed that McRae was found off campus Tuesday morning, but before he could be arrested, he died from an apparent self-inflicted gunshot wound to the head.
McRae previously served 18 months probation after pleading guilty in 2019 to a weapons charge for having a loaded weapon in his vehicle, according to the state's Department of Corrections. The offense took place in Ingham County, which covers East Lansing.
Police in Ewing, New Jersey, also shared a statement on Tuesday noting that McRae, who had local ties to Ewing, "had a note in his pocket that indicated a threat to two Ewing Public Schools" and that an "investigation revealed that McRae had a history of mental health issues."
Already two months into 2023, there have been a total of 67 massing shootings, according to gunviolence.org. Ironically, this shooting in East Lansing, Mich. occurred on the eve of the five-year anniversary of the mass shooting at Marjory Stoneman Douglas High School in Parkland, Fla. that took the lives of 17 students.
Reacting to the mass shooting at Michigan State, NAACP President & CEO Derrick Johnson released a statement that read:
"Going to school should not be a life-threatening endeavor. But this is America, and every day that our children leave the house, or their dorms, we fear for their safety. As we once again mourn the death of lives taken far too soon, one thing has become entirely clear - our so-called 'leaders' have failed us.

It is unconscionable that, on the eve of the fifth anniversary of the tragedy that took the lives of 17 students in Parkland, another nightmare has befallen our students, their families, and this entire nation. To members of Congress, I must ask you; How many more examples do we need? How many more innocent lives need to be stolen before you put your sworn oath into action and pass common sense gun safety legislation to ensure that no one has to fear for their life? Gun violence is a domestic threat. Our children deserve to live in a country where they are excited about, not fearful of, their time at school, or the movies, or the mall. Our children deserve to live in a country where their leaders fulfill the sworn oath they took to protect us.

We have voted, protested, called, wrote - we continue to do everything in our power to advocate for the substantive changes needed to protect our communities. It is time for you to turn your 'thoughts and prayers' into the actions this country continues to cry out for. Do your job and pass the common sense gun reforms we are in dire need of. Our children's lives depend on it."
Unfortunately, these mass shootings are no longer outliers or rare occurrences. They are a part of everyone's everyday lives, and it's sad that every time one occurs, American citizens seem no longer shocked or surprised.