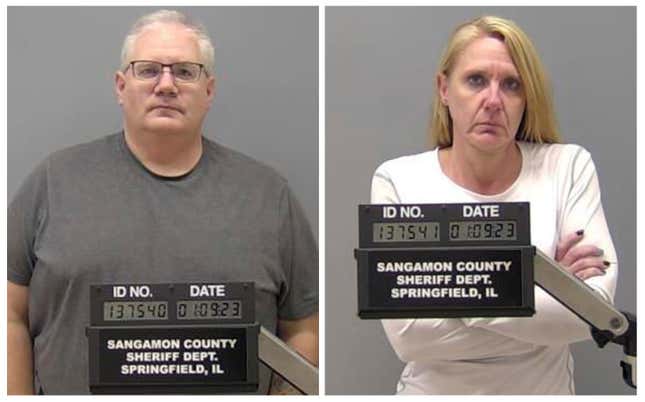 Two Illinois EMS workers are being held in jail on a $1 million bond in the alleged murder of an Illinois man two months ago, according to Insider. They are each facing first-degree murder charges for failing to provide adequate care which unnecessarily jeopardized an innocent Black life.

Peggy Finley and Peter Cadigan responded to a request for assistance at the home of Earl Moore Jr. on December 18, 2022. Previous reports say Moore was suffering from hallucinations caused by alcohol withdrawal. When Finley and Cadigan arrived, body camera footage recorded them yelling at Moore and handling him aggressively because, they claimed,  he was being combative.
However, Illinois prosecutor Dan Wright said the footage showed him in a "weakened and confused state of medical distress."
More on the video according to an ABC report:
Finley can be heard yelling at the man, who identified himself as Earl Moore, to sit up and to "quit acting stupid" in the newly released bodycam video.

Video also shows Finley telling Moore, 35, "We ain't carrying you" and "I am seriously not in the mood for this dumb [stuff]," using an expletive in his remark, before eventually strapping the patient to a stretcher "in a prone position," the police department said.

According to a press release from the Springfield police, officers attempted to provide Moore care after the EMS workers "acted indifferently to the patient's condition."
Despite the fact that checking someone's vitals is routine procedure, the two neglected to do so, and ultimately strapped Moore down to a stretcher, not face-up, but face-down. Cadigan later lied to investigators, saying he'd never received training on the risks of transporting a patient this way when actually he had, per Insider. Then, Finley lied about the ambulance lights being on during transport, signaling Moore was alive. Surveillance footage, however, showed the lights and sirens were off. Finley also asked the responding officer to seemingly fabricate information regarding Moore's status during the ordeal.
Moore died at the hospital.
The autopsy reports the cause of death as positional asphyxia, caused by the manner in which Moore was restrained; this is similar to how George Floyd died at the hands of Minneapolis police.
After the incident, the two were arrested and bond was set at a whopping $1 million each. Earlier this week a judge denied their attorney's request to reduce the amount to $100,000, per WCIA News. If the two are sentenced, they face a maximum of 60 years in prison.
This is just another example of how Black lives have also been taken at the hands of negligent paramedics. It's not just the police who don't care.