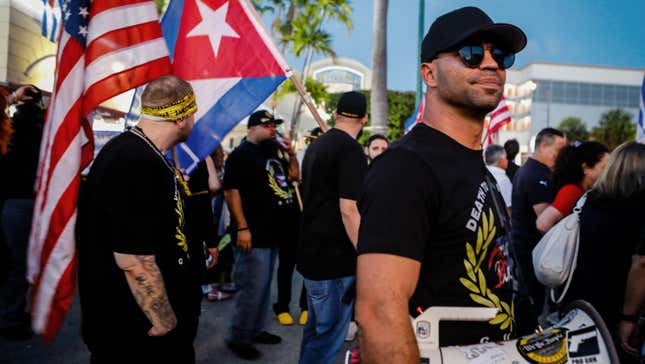 On Tuesday, former Proud Boys leader Enrique Tarrio was sentenced to 22 years for helping orchestrate the Jan. 6 attack on the Capitol. It is the longest sentence handed down out of all of the participants that were charged in the riot.
"Dip The Pen In Your Own Blood": How To Find Success As An Author | Securing the Bag: Part 2
Quite frankly, it what he deserves. Earlier this year, Tarrio was convicted on charges of seditious conspiracy. Prior to his sentencing, the harshest sentence—18 years—went to Ethan Nordean who was one of Tarrio's co-defendants. Stewart Rhodes, who served as leader of the Oath Keepers militia, also received 18 years in prison after being convicted of sedition.
Tarrio's hearing in Federal District Court in Washington was three hours long and was the final sentence for the Proud Boys who were tried on seditious conspiracy charges. In addition to Tarrio and Rhodes, Joseph Biggs, Dominic Pezzola and Zachary Rehl received sentences last week between 10 to 17 years in prison.
Following the group's heinous actions, the Proud Boys became the F.B.I.'S main focus as key members played major roles in breaking barricades and enacting violence against the police. When Judge Timothy J. Kelly explained why he believed Tarrio should serve 22 years, he didn't mince words.
He called Tarrio the "the ultimate leader, the ultimate person who organized, who was motivated by revolutionary zeal." On Tuesday, Tarrio tried to atone by saying that "what happened on January 6 was a national embarrassment." He also apologized to police officers and lawmakers who he hurt during the insurrection.
"I am profusely sorry for what happened to you that day," Tarrio said while crying. However, Judge Kelly wasn't impressed. "I'm glad for Mr. Tarrio's statement here today," he stated. "But … I don't have any indication that he is remorseful for the actual things that he was convicted of, which is seditious conspiracy."
The fact is the matter is Tarrio and his crew thought they could attack Congress and face no repercussions because of their support for Trump and the way America runs on white supremacy. However, these convictions and prison sentences prove that bigots who enact violence aren't always above the law.