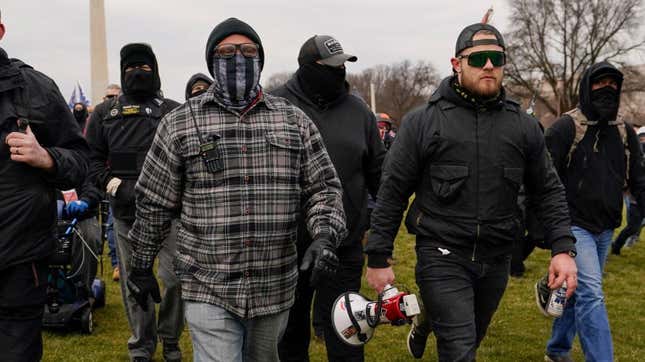 On Thursday, former Proud Boys organizer Joseph Biggs was sentenced to 17 years in prison for leading the attack on the U.S. Capitol as a last ditch attempt to keep Donald Trump in office.
My Hip-Hop Story: Cedric The Entertainer On Jay-Z and His Indisputable Role In Shaping The Genre's Culture
Not only did the stunt fail and Biden became president anyway, but Biggs will now have to spend almost two decades in prison? Sucks to be him.
Originally federal prosecutors wanted Biggs to serve a 33-year prison sentence, since he organized dozens of Proud Boys members to ascend on the Capitol on Jan. 6, 2021. The mob charged through police lines, threatened lawmakers and forced them to evacuate during a Congress session for certifying Biden's electoral win.
Biggs' sentence is the second longest conviction received in the hundreds of Capitol riot cases for far. Oath keepers founder Stewart Rhodes was sentenced to 18 years in May for his role in orchestrating the attack.
On Thursday, U.S. District Judge Timothy Kelly said the Jan. 6 attack desecrated an "important American custom" which was the certification of the Electoral College vote.
"That day broke our tradition of peacefully transferring power, which is among the most precious things that we had as Americans," the Judge Kelly exclaimed. Biggs told the judge he wasn't a "terrorist" even though he literally engaged in domestic terrorism and insisted that he "messed up that day."
"My curiosity got the better of me, and I'll have to live with that for the rest of my life," Biggs said. His defense attorney, Norman Pattis, backed this claim and labeled his client a "misguided patriot."
"Draconian sentences in this case will deepen divisions in this country at a time when the need to build bridges is acute," Pattis stated in a court filing. How convenient for both Pattis and Biggs to have selective memories.
During the insurrection, Biggs tore down a fence and scaled a scaffolding before entering the building. He then exited the Capitol but eventually went back in, setting his sites on the Senate chamber and encouraged others to follow his lead.
Biggs assumed white privilege would shield him from accountability—but he's getting exactly what he deserves.