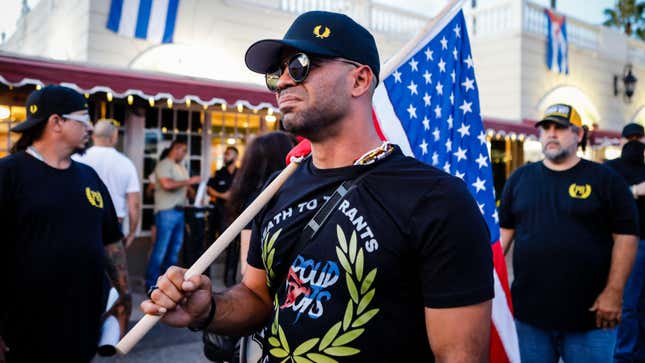 Updated 8/30/23 at 1:43 p.m E.T:
The sentencing of former Proud Boys chairman Enrique Tarrio that was originally scheduled for Wednesday has been postponed. Tarrio, along with associate Ethan Nordean, were supposed to be sentenced today after being convicted last May for seditious conspiracy and various other felonies for the roles they played in the Jan. 6 attack on the Capitol. Nordean will be sentenced on September 1 while Tarrio will be sentenced on September 5. Both will still take place with U.S District Judge Timothy Kelly.
Small Town Horror Story: The Mississippi Burning of Three Anti-Segregationists
Original Post:
Former Proud Boys leader Enrique Tarrio may finally face the music for his role in the Jan. 6 attack on the Capitol. At a hearing in federal court on Tuesday, prosecutors asked a judge to slap Tarrio with a 33 year stretch in federal prison on his conviction for seditious conspiracy in connection with the Jan. 6, 2021 riot at the U.S. Capitol—the longest prison sentence of any defendant in the incident.
Tarrio isn't the only one who may spend decades in a cell.
Ethan Nordean is scheduled to be sentenced on Wednesday afternoon and could face up to 27 years in prison if prosecutors have their way. On Thursday, prosecutors are hoping Joe Biggs receives 33 years in prison. Zach Rehl will also be sentenced that day and could serve 30 years.
Dominic Pezzola, who was not found guilty of seditious conspiracy but convicted of assaulting a police officer, obstruction of a congressional proceeding and other charges, will be sentenced Friday and could serve up to 20 years in prison. For context, the longest Jan. 6 sentence was 18 years for Oath Keepers founder Stewart Rhodes. On Tuesday, U.S. District Judge Timothy Kelly supervised an all-day hearing that included the reading of victim impact statements.
All five defendants were present and wore orange jumpsuits during the hearing. The verdicts were reached for the Proud Boys in May after a trial that lasted four months. The trial featured an impressive amount of video footage from those who participated in the attack, as well as clips from police body cameras, journalists and surveillance cameras.
During Tuesday's hearing, U.S. Capitol Police Officer Shae Cooney talked about losing Capitol Police Officer Brian Sicknick. Sicknick had passed out after fighting the rioters and died the following day. "Every day we have to be reminded that he's not here anymore because the people in this courtroom decided that they weren't happy with how an election went," Cooney stated.
"And they thought the best idea was to break into the Capitol, fight police officers and try to overturn an election."