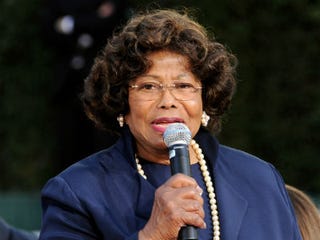 After a missing-persons report made by her nephew, Trent, on Saturday, Katherine Jackson, mother of the late Michael Jackson, is said to be with family. According to the Los Angeles Times, the Los Angeles County Sheriff's Department made an announcement regarding her status early Monday morning.
The L.A. County Sheriff's Department continued to gather information and planned to speak with family members Monday after locating Michael Jackson's mother in Arizona, officials said. …

"She is safe and with family members," Sheriff's Deputy Don Walker read from a statement Monday morning.
This news comes after Paris Jackson wrote on Twitter on Sunday that she could not reach her grandmother for a week. Jermaine Jackson, however, had tweeted on Friday, July 20, that Mrs. Jackson is "fine" and "resting up" in Arizona. Katherine Jackson's lawyer told CNN said that the matriarch rarely goes 24 hours without speaking with her grandchildren.
Rebbie, Janet, Jermaine, Randy and Tito Jackson submitted a letter last week charging that their mother was being ill-treated by those in charge of their late brother Michael Jackson's estate as well as her manager and lawyer.
Read more at the Los Angeles Times.