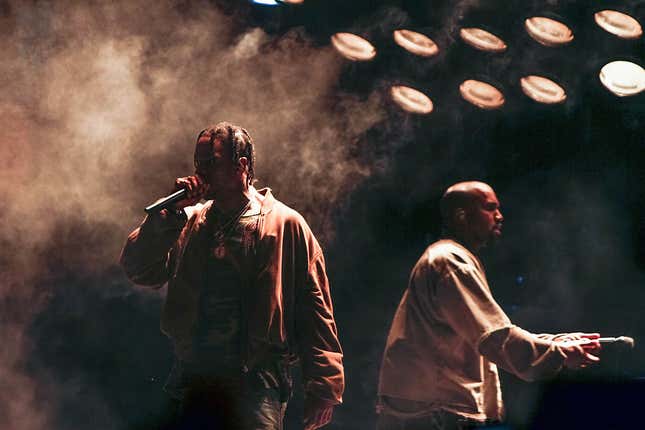 It was a long road for Travis Scott to give his first live performance of UTOPIA, but he finally made it. After it was originally scheduled and canceled to happen at the Pyramids of Giza in Egypt, Scott performed his Circus Maximus concert in Rome on Monday night.
Kanye West Needs To Stop Bullying Black Women
During the show, he performed many of the best songs on his popular album including, "HYAENA," "THANK GOD," "MODERN JAM," "FEIN," "MY EYES," and many others. With fans expecting him to play the entirety of the project, the Houston rapper went a little off script and performed songs from previous albums such as "Butterfly Effect" and "Highest in the Room."
But the concert took another turn when Scott's mentor, Kanye West, surprisingly came on stage to perform with the "SKELETONS" rapper. He welcomed Ye to the stage with the songs "Praise God" and "Can't Tell Me Nothing."
When the Chicago rapper came on stage, Scott stated to the crowd, "There is no 'UTOPIA' without Kanye West. There is no Travis Scott without Kanye West. There is no Rome without Kanye West. Make some noise for Ye."

The Donda rapper's appearance at the show marked the first time he's done a live performance since he decided to go on an antisemitic tirade for the last year. The last time he performed in front of a live crowd was in February 2022, during his messy and unorganized launch event in Miami for Donda 2.

Since then, Kanye has been less about the music and more about the antisemitic statements. But it only makes sense that Scott brought him on stage, not only was Travis once signed to Ye's GOOD Music label, but many people have also stated that many of the songs on UTOPIA sound like direct references to work West has previously done, most notably on his 2013 album Yeezus.