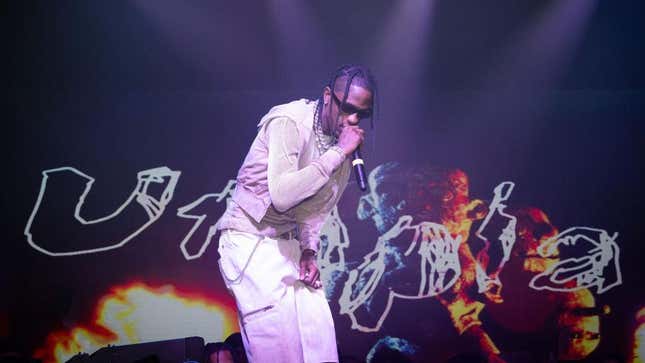 After years of anticipation, delays, canceled shows, and festival disasters, Travis Scott's fourth studio album, UTOPIA, is finally here.
Courtney B. Vance in Heist 88 Is Our Black TV Pick of the Week
The 19-track record features collabs with many high-profile artists including Beyoncé, Drake, SZA, Young Thug, Kid Cudi, Playboy Carti, Pharrell, Future, Kanye West, 21 Savage, James Blake, Swae Lee, and many more.
Few artists today live in a nonstop hype machine as much as Travis Scott. His third studio album, Astroworld, was teased for years before it was released. In August 2018, he finally put out the album, and it absolutely lived up to the hype. The artist who was once more known as a producer, became a household name in the hip-hop world as an MC. Even listeners who weren't fans of his music (like myself) couldn't deny the mark he left on the genre with Astroworld.
But five years later, he had to go through the process of not only building the hype but also living up to it. Did he?
In my opinion, he did. But again, the hype has all to do with the expectations of the listener. Was I expecting the best album of the year? No. Was I expecting the album of the decade? Hell no. Was I hoping for something I can enjoy without too many skips? Yes. Was I expecting something I can have fun with and bang when I'm at the gym or getting ready to go out? Absolutely.
For people who were expecting an incredible concept album that was littered with unique messages about the state of the world and what he thinks a "Utopia" looks like, you are going to be sorely disappointed. In all honesty, it's nothing more than a cool name for an album that really has no bearing on the content of his album.
Scott is not an artist that does not express any real human emotion in his music (other than raging).
As one person wrote on Twitter, now X, "The new Travis Scott sounds amazing, it's as exquisitely curated as ever, but the vacuous emptiness at its core where a real person should be is now so glaring it's almost unnerving. He creates these massive, expensive canvases and uses them to express literally nothing."
He continued, "It's honestly eerie, how Scott manages to avoid conveying any actual thoughts, opinions, insights, or even really basic humanity. There's no worldview in a Scott verse, no perspective or lived experience. Every verse is an empty stream of predictive text."
For me, that's okay. Not every album I listen to has to show incredible emotion or messaging, sometimes music that just sounds dope is good enough for me, the vocals on top of it are just an added plus. Besides, Travis' rapping is much better than it's been on previous albums.
It's often the reason why I love instrumental albums from hip-hop producers, they don't have any particular messaging, it's just beautiful music.
I'm not listening to Travis Scott to hear about his thoughts on the world. Frankly, I needed an album this year that lacked emotion, since some of my favorite projects of the year have been extremely sentimental and introspective.

One of my expectations for UTOPIA to live up to the hype is for Travis to not be repeatable in his sounds, he did that. Yes, a lot of it was taking inspiration from stuff previous artists had already experimented with (most notably Kanye West on Yeezus). But that shouldn't be to Travis' detriment, since he did it well. I'm not going to ding an artist because he wasn't the first to experiment with a sound.
Tracks such as "TELEKINESIS," "MODERN JAM," and "CIRCUS MAXIMUS" were tracks where I immediately felt like Scott was trying something out of his comfort zone. To my surprise, they came out as solid songs, even if they are not among my favorite tracks.
Something else I'm also noticing is that there seems to be a split between fans and music critics on the quality of the album. Travis Scott fans think it's excellent and critics (from what I've seen) think the project sounds good but is, for the most part, lacking in any real content.
I stand in the middle. Maybe that's because I've never really been a fan of his music. Years ago, I held it against Travis that he seemed to be a copycat that took elements of other rappers and just used them as his own. I felt that fans gave him too much credit for just rapping over trap beats with autotune. His music wasn't different enough to receive the praise and attention it was getting. His rhymes weren't interesting, his beats weren't unique and his sound wasn't amusing.
Now, the production he uses is much more enjoyable and his rhymes are much more compelling. I know those should be simple standards you should have for a rapper, but up until Astroworld, he didn't meet those. Now he does.