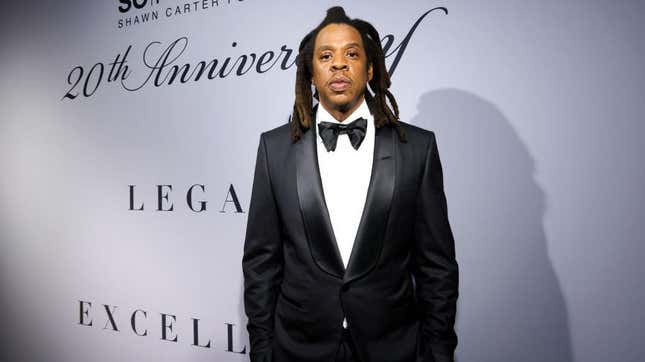 It's been a Jay-Z week. Just as "The Book of Hov" exhibit opened up at the Brooklyn Public Library, the legendary MC is also making music history.
My Hip-Hop Story: Cedric The Entertainer On Jay-Z and His Indisputable Role In Shaping The Genre's Culture
With the Recording Industry Association of America (RIAA) updating its certifications for The Black Album and The Blueprint 3, Hov has become the first Black man to have at least 10 solo albums go multi-platinum. Last week, Jay's 2009 album, The Blueprint 3 reached double-platinum status, and his 2003 album, The Black Album, reached quadruple-platinum status, according to the RIAA.
Other albums that make up his collection of multi-platinum records include Vol. 2… Hard Knock Life, Vol. 3… Life and Times of S. Carter, The Dynasty, The Blueprint, The Blueprint 2, Kingdom Come, Magna Carta… Holy Grail and 4:44. If we include his collaboration albums with Linkin Park, Collision Course, and Kanye West, Watch the Throne, Hov would be up to 12 albums that have sold more than two million copies.
But although Jay-Z is the first Black man to achieve this accomplishment, he is not the first Black person overall. That would be Mariah Carey, who has more than 11 solo records that have gone at least double-platinum in the country.

This latest accomplishment from Jigga is why people consider him to be the greatest of all time. It's his longevity. Very few artists, let alone rappers, have been able to be this successful over a long period as long as Jay-Z. You can argue that other rappers are better MCs in terms of skill (I would), but it's hard to deny that anyone has played the rap game better than Hov in hip-hop's 50-year history. It also speaks to his uncanny ability to have an impact on multiple generations.
There's been plenty of rappers that have continued making music from the late 90s on, but few have been unable and unwilling to evolve with the times, Jay-Z has, and that's he's the most successful artist in rap history.