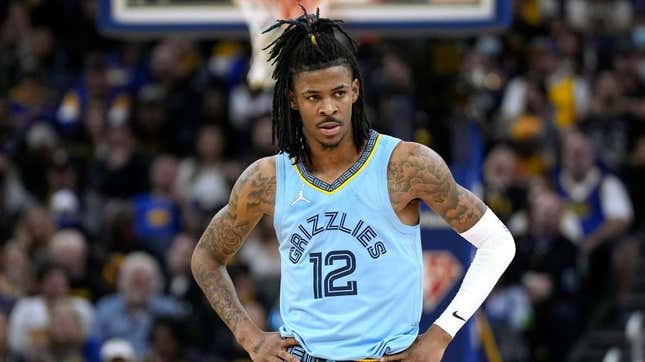 Play stupid games, and win stupid prizes.

NBA fans have been waiting for the inevitable suspension of Ja Morant after he was seen for a second time on Instagram Live flashing a firearm. On Friday, they got it.
Gabrielle Union & The Cast of The Perfect Find Define Black Love
The NBA announced that "Morant has been suspended 25 games without pay for conduct detrimental to the league."
Although the suspension is lengthy, it was not unexpected. On two separate occasions, Morant was seen holding a firearm on social media.
The first time was in March, while at a Denver area nightclub where he was seen brandishing a gun while on Instagram Live. As a result, he was suspended for eight games.
After an interview with Jalen Rose and a private meeting with NBA Commissioner Adam Silver, Morant promised that he would work through his issues and ensured that something like this would never happen again.

But in May, Morant was seen on Instagram Live flashing a gun—again. The video showed Morant and his friend innocently dancing in the car with music playing. But at one point in the video, when the person holding the phone points the camera toward Ja, he's seen holding a gun, which leads to the person moving the camera quickly.
While Morant is set to miss nearly one-third of the season, it's not too late for him to still become one of the faces of the NBA.

Why Ja Morant still has time to resurrect his career
In a statement released shortly after the suspension was announced on Friday, Morant gave his most genuine and honest take on his actions as of late.
He said, "I've had time to reflect and I realize how much hurt I've caused. I want to apologize to the NBA, the Grizzlies, my teammates, and the city of Memphis."
He continued, "To Adam Silver, Zach Kleiman, and Robert Pera - who gave me the opportunity to be a professional athlete and have supported me - I'm sorry for the harm I've done. To the kids who look up to me, I'm sorry for failing you as a role model. I promise I'm going to be better. To all of my sponsors, I'm going to be a better representation of our brands. And to all of my fans, I'm going to make it up to you, I promise. "
The seemingly honest reflection on his actions gives me some hope that Morant will bounce back as one of the premiere players in the league and will be free of any controversy or distractions.
Morant is not a 10-year veteran in the league who is stuck in his ways and is unwilling to accept consequences. He's just a 23-year-old guard who just finished his fourth season. There is still time for him to grow and learn.

There have been a plethora of examples of young NBA stars making detrimental mistakes much worse than Morant and still bouncing back to have incredible careers.
Ron Artest was a maniac who beat the hell out of Detroit Pistons fans during the Malice at the Palace in 2004. Six years later, he would go on to win a championship with the Los Angeles Lakers.
While with the Denver Nuggets, Carmelo Anthony infamously sucker-punched New York Knicks guard Mardy Collins, resulting in a 15-game suspension. He still went on to have a hall-of-fame career.
Kobe Bryant was accused and charged with sexual assault in 2003 and still went on to become one of the greatest NBA players of all time.
While Ja Morant's behavior is not excusable, it is in no way worse than what those guys did (allegedly).
I have confidence that Morant will get himself right during his 25-game suspension and will bounce back. Not only because his basketball future is at stake, but also because he has the on-court talent to do so.