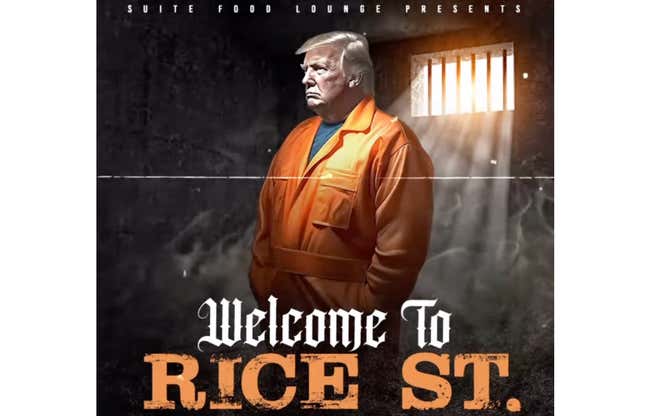 Alexa, play Grove St. Party by Waka Flocka Flame

There's a saying around these parts: Atlanta influences everything, and in case you hadn't noticed, the A has been showing the rest of the country how to blow up its own homegrown music scene, how to build a successful Black middle and entrepreneurial class and how to run the world's busiest airport for a few decades now. Oh yeah, and party: Atlanta definitely knows how to throw a good party.

That should make former President Donald Trump feel comforted today when he turns himself into the Fulton County Jail—known in the A simply as "Rice Street"—on felony charges related to the 2020 election later today, because at least one local restaurant is rolling out the red carpet. (Or maybe it'll be orange to match the jumpsuit.)
Can Donald Trump Serve As President From Prison?
The reaction to Trump's post declaring his departure from his luxurious New Jersey golf club to Fulton County Jail was quite entertaining to say the least. Online, people cracked jokes about him running into rapper Young Thug, who's sitting in Fulton County Jail upon the pending RICO case, and even preparing to change their profile pictures to his mugshot. Others called for a celebration in person to which Suite Food Lounge ATL wasted no time to arrange.
They posted a flyer of Trump photoshopped into an orange jumpsuit and light beams shining on him through prison bars behind him titled "Welcome to Rice St.," the block where the jail is located.
"Breaking News!!!! Thursday August 24th! We're having a #WelcomeToRiceSt party @suiteloungeatl for you know who… Doors open at 5! Free #Hookah for the Ladies Every Thursday! Drink and Food Specials! #PullUp #45 #indictmentscoming" wrote the business in the caption.
On the other hand, a group named "Blacks for Trump" showed up outside the jail wearing "Blacks 4 Trump" t-shirts and MAGA hats holding signs in protest of his detainment.
"I'm here to support Trump because they been doing Black men like this for decades - making up charges. I know Trump is innocent. I support Trump against this corrupt, two-tier justice system," said one man to Freedom News, while donning a "Niggas 4 Trump 2024" shirt. You can't make this up.
Fulton County District Attorney Fani Willis slammed 13 charges against Trump and 18 other defendants including racketeering, conspiracy and other violations alleging the overturning of the 2020 election. He's also been indicted in New York, Miami and Washington D.C., all of which were followed by parties and bar specials themed after the announcement of his arrest.