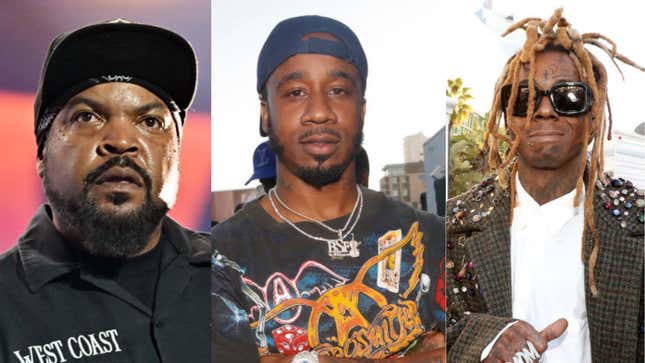 On my list of things I did not expect to see in hip-hop this year, this one might be near the top of the list.

Last weekend, popular Buffalo rapper Benny the Butcher randomly posted on social media what his plans are for the 2024 presidential election, writing, "I'm votin Trump 2024."
This is coming from the same MC who once rapped, "I got two kids, I never neglected 'em once/I hope the democrats steal the election from Trump."

But despite the shock and disappointment fans have expressed toward the Butcher, he's stood by his statement. Responding to a comment that claimed he only said he's voting for Trump for an album rollout, Benny wrote, "Naw I'm jus voting for trump… never had to do silly shot for a roll out yall be aight."
Another user asked, "Hov never needed a president to make money so why you doing it?" In response, Benny said, "Everybody ain't Hov…it's not for money my boy I'm rich already."
Other users on X were less keen to ask questions and just went straight at Benny, such as one user who wrote, "The bigot comin, nigga!" referring to the catchphrase the Buffalo rapper uses on his records.
There were some people in his comments who were questioning if he could vote since Benny admits to being a convicted felon in many of his songs. But if Benny is indeed a citizen of New York, where he's from, he was allowed to vote once he was released from prison, according to the National Conference of State Legislatures.
Why are so many rappers supporting Donald Trump?
While many were shocked by Benny's statement, including me, it's not uncommon for rappers to be staunch supporters of the former president of the United States in recent years.

In July 2022, DaBaby called Trump a "gangsta," because he pardoned Florida rapper Kodak Black.
In November 2020, during his last rally for the 2020 election, President Trump brought out rapper Lil Pump and introduced him to a crowd in Grand Rapids, Mich.
In October 2020, Lil Wayne was seen posing with the former president after he was pardoned on Trump's last official day in office.
Weeks before Wayne, Ice Cube was under fire after it was revealed that he was working with the Trump administration just days before the election.
Kanye West has essentially been supporting Trump since he initially announced he was running for president seven years ago.
Furthermore, in recent years, Republicans have pushed to receive more Black men to vote for them, seeing an opportunity to steal them away from their Democratic opposition.
While we see these rappers as a part of the "culture," we forget that they have more in common with Trump than they do with their fans. Rappers, like Benny, who claim to have millions of dollars would be more keen to agree with Trump's words than with a Democrat who says, "Tax the rich!"

When asked why certain rappers have aligned themselves with Trump and the Republican party, Professor Maurice Johnson, a teacher who uses hip-hop to teach students about modern society, said, "Respectfully, I don't take many of the things that hip-hop artists say about politics seriously. Many of them are uneducated about politics and history in general."
However, Dr. Johnson did say, "I don't think they are necessarily siding with conservative values because many rappers' subject matter is quite liberal. But I do think that many Black people, in general, are fed up with the Democratic party for not creating meaningful change for African-Americans and are exploring the idea of the GOP being more supportive of Black causes."
Whatever the reason, I think about this famous quote by Dave Chappelle when I hear rappers talk about politics. "Who gives a fuck what Ja Rule thinks at a time like this?!"