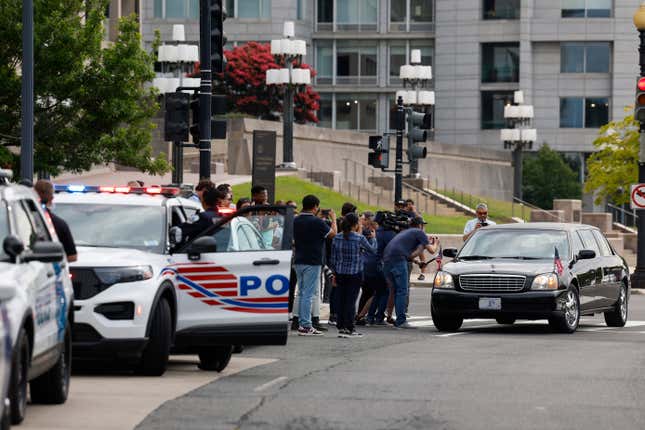 Donald Trump is set to be arraigned on Thursday afternoon blocks from the site of the January 6th insurrection. Although this is his third indictment, this specific case has loomed large over all of his other legal troubles.
As expected, the former President and his legal team have already begun to hit back against the charges, and Trump will no doubt plead not guilty in court today. But what does it mean to have the Republican frontrunner facing three indictments, one of them for trying to overturn the U.S. election? And, more importantly, what comes next?
The Root spoke to legal and political experts to try to find out.
What Is Trump's Legal Strategy and Will It Work?
On Wednesday, Trump's attorney John Lauro sat down with NPR News to discuss his legal strategy, and his responses were... illuminating. Lauro repeatedly asserted that Trump's actions, including pressuring the Vice President to violate his constitutional duty to certify the election, were protected by free speech.
Elizabeth Beske, a Constitutional Law Professor at American University, says that's not how free speech work. "It doesn't hold up," says Beske. " Lots of crimes involve speech—like fraud."
For example, says Beske, "If I promise to sell you prime beachfront property, and after taking your money, hand over the deed to a rat-infested swamp, I have defrauded you. That my promise was oral doesn't confer First Amendment protection on my lies or prevent my prosecution."
In the indictment, Special Counsel Jack Smith provides ample evidence that Trump was knowingly perpetuating a lie. But instead of backing down, Smith says that Trump did everything in his power to stay in office, including pressuring Mike Pence to violate his constitutional duty, opening a "sham" justice department investigation, organizing a fraudulent slate of electors to vote for him in states he lost, and directing an angry mob to disrupt the certification process.
"The indictment makes clear that Trump was free to say wrong things and even to say untruthful things," says Beske. "What makes it criminal is that he used knowing falsehoods in an effort to derail the election certification and throw out legitimate votes."
Does Any of This Matter to Voters?
Legal issues aside for the moment, what does all of this mean politically? It's a little too early to know exactly how voters are reacting to Trump's latest indictment. But we can look at polling from the last two indictments to give us a hint. Trump has repeatedly gotten a boost in his poll numbers after each indictment. And the most recent numbers the New York Times/ Sienna Poll show Trump towering over his primary opponents with a 37 percentage lead over the next closest candidate, Florida Governor Ron DeSantis. The poll also found that Trump was neck and neck with President Joe Biden in general election match-ups.
Nina Smith, a campaign strategist and former senior advisor to former Georgia Gubnetrorial candidate Stacey Abrams, says she thinks Republican voters will end-up pulling the lever for Trump. "He's essentially become Teflon Don in the Republican primary," she says. "But if we're thinking about the general election, it's going to have consequences."
Smith says that these indictments make him a significantly weaker general election candidate. "How do you justify to independents or even get crossover Democrats to vote for you if you have this indictment hanging over your head," she says. Especially because if he's convicted in a state court, there's no possibility of a self-pardon.
Can Trump Be President From Prison?
Now that we've opened-up the self-pardon can of worms, it's worth talking about the multiple legal scenarios stemming from a frontrunner facing decades of prison time for attempting to overturn an election.
Scenario 1: Biden Wins!
This is the easy scenario because the prosecutions all theoretically continue as normal (or as normal as anything involving Donald Trump possibly can be.)
Scenario 2: Trump Wins and is Sworn-in Before The Trials Start
It's not clear if a sitting President can be prosecuted by the Justice Department, says Beske. "[Two Justice Department] memos suggest that there's an internal DOJ policy that a sitting President cannot be prosecuted during their time in office," she says. "The theory is that it would prevent them from exercising their constitutional role."
The rule isn't legally binding, but with Trump in control of the Justice Department in this scenario, it's seems even less likely that we'd see the prosecution continue (at least while he's in office.) And if he fails to derail the prosecution, there's always the chance that he tries to pardon himself for the federal crimes. Although Beske calls that a legal "gray area," adding that he would have zero power to pardon himself for state crimes.
Scenario 3: Trump is Convicted In Federal Court During The Election
"He could still be a convicted felon and run for election and win," says Beske "There's nothing that says you cannot be a convicted felon."
In fact, he could even be President from behind bars. "There's nothing in the constitution that says he can't," says Beske, adding that this would undoubtedly "provoke a constitutional crisis" about whether or not the constitution requires his release in-order for him to fulfill his duties in office.
These are "unprecedented legal issues," says Former San Francisco Prosecutor Paul Henderson. Although Trump's best bet is to win the election, it's unclear what happens after that. "None of this prevent him becoming the nominee and none of it prevents him from being the President," he says. "But it'll be an interesting dynamic to see... if he wins and he's sentenced what happens to that [prison] time. Does he serve time? Is he President while in custody?"